Air Conditioner Dust Cover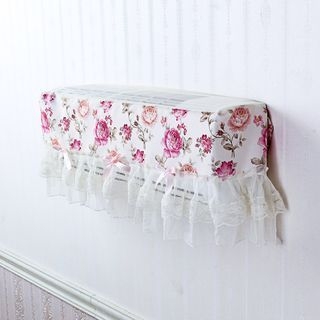 Brand from China: Home Simply. Color: Flower, Materials: Eiffel Tower: Linen / Flower: Polyester, Size: 86*20*37.5cm, Care: N/...
Buy Now
$16.05
Related Products
Put an end to those extra calls to the A/C technician, reduce maintenance time, and protect and prolong the life of your air conditioning unit with the Sturdy Covers All Season A/C Defender. Our unique design helps to keep leaves, twigs, pine needles, grass and other unwanted items out, reducing debris build-up in your unit with tough year-round protection, all without impeding the natural airflow of your unit. Made from weather resistant PVC-coated mesh, the Sturdy Covers A/C Defender is built to withstand wind, rain, the heat of summer, and the snows of winter. Your AC Protector will come with everything you need for an easy instillation, and includes a 6 year manufacturer warranty.
View Item
A Complete, Up-to-Date Guide to AC and Refrigeration Fully revisited to cover the latest techniques, tools, refrigerants, and equipment, "Air Conditioning and Refrigeration," Second Edition, provides a thorough introduction to the basic principles and practices of the AC and refrigeration industry. Step-by-step instructions, along with more than 800 photographs and illustrations, demonstrate efficient, cost-effective, and current methods for choosing, installing, maintaining, troubleshooting, servicing, and repairing today's cooling and climate control systems. Whether you're a do-it-yourselfer, a professional technician, or a student, you'll find the task-simplifying details you need for any project. Learn all about: Tools, instruments, and specialized equipmentDevelopment of refrigerationVoltage, current, and resistanceSolenoids and valvesElectric motorsRefrigerantsRefrigeration compressorsCondensers, chillers, and cooling towersWater-cooling problemsEvaporatorsRefrigerant flow controlServicing and safetyFreezersTemperature, psychrometrics, and air controlComfort air conditioningCommercial air-conditioning systemsVarious types of air conditioners and heat pumpsEstimating load and insulating pipesElectrical power for air conditionersAir-conditioning and refrigeration careersNew refrigerantsElectrical and electronic symbols used in schematics
View Item