Expedition RV Cover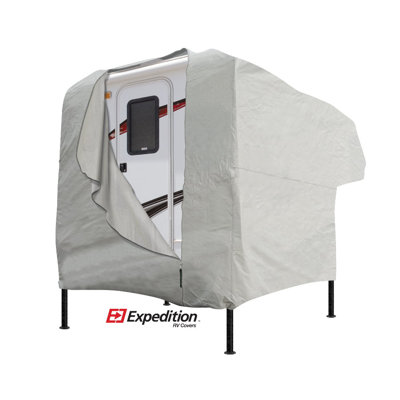 Rugged polypropylene fabric with excellent UV protection//Full cut allow room for ladders, air conditioners//Zippered rear panels for easy access//Vented, super strong 3 layer roof is water repellent and mildew resistant//ProductType RV cover//Colour g...
Buy Now
$259.99
Related Products
Air conditioner covers. Summer/All-season air conditioner covers will keep the bottom of your a/c unit clear of leaves and debris buildup, This cover may be left on while the unit is running. When leaves or debris decay they give off acidic gases that eat at your ac unit's copper tubing, by making small holes that allow freon to escape, causing your compressor to fail........PremierAcCovers extend the life of your unit preventing rusting parts by moisture being trapped inside Our covers are durable and made of tough, synthetic fabric, pvc-coated polyester breathable 1/4 inch mesh, We offer a Full 5 year manufacturer's warranty...100% satisfaction guaranteed or you money back including shipping within 30 days.....Each purchase, contains directions for quick and easy installation, no tools needed.......... Four nylon long lasting bungee cords are included.... Made in the U.S.A. with American made materials.
View Item
Frost King outside covers for window air conditioners help protect your expensive unit from damage caused by harsh winter weather.
View Item