RV Cover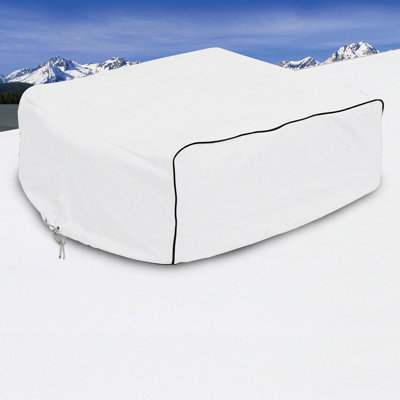 Water resistant and repellent//Sized to fit all major manufacturer V air conditioners//Draw cord along bottom for quick, secure fit//Non corroding grommets//Model A fits Coleman Mach I, II and III, Mach 3 Plus, Mach 15, Roughneck and TSR ACs//Model B f...
Buy Now
$53.99
Related Products
Frost King outside covers for window air conditioners help protect your expensive unit from damage caused by harsh winter weather.
View Item
This Indoor air conditioner cover saves both energy and money! Blocks hot or cold drafts and makes your home more efficient. Prevent dust, dirt, hair or fur from collecting in air conditioner unit when not in use prolonging the life of your air conditioner. Durable polyester cover easily secures over face of air conditioner from inside your home. No tools required and fits most window air conditioners up to 10,000 BTU's. Has a convenient pull cord to adjust and hold perfectly around your air conditioning unit. Measures approximately 31"L x 24"W x 1.5" in depth overall. Comes in the color beige.
View Item