Wood Lattice Panel Trellis Size: 4' W x 4' D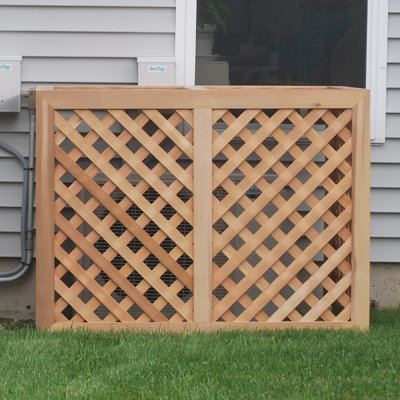 This western red cedar lattice enclosure is to cover up those unsightly air conditioner boxes and generators. This western red cedar lattice enclosure is skillfully handcrafted by master craftsmen. It is constructed with the highest quality western re...
Buy Now
$1,256.49
Related Products
Air conditioning units can provide added comfort during the hot weather, but oftentimes require protection from the elements during the cold-weather months. The Duck Brand Air Conditioner Cover guards against damaging effects of rain, snow, and dirt throughout the year. This reusable, easy-to-install cover also seals out leaves and dust to keep your A/C unit in shape so you can use it for many seasons to come. Use together with other Duck Brand weatherization products to make your home more comfortable and energy efficient all year long.
View Item
Baseboard load transfer//F Series Baseboard collection//Material Metal//Powder coated paint finish//Switching between heat from baseboard or cooling from air conditioner//Instals conveniently//Made in the USA//Product Type Cover Trim Grill//Powder Coat...
View Item