Wood Lattice Panel Trellis Size: 4' W x 4' D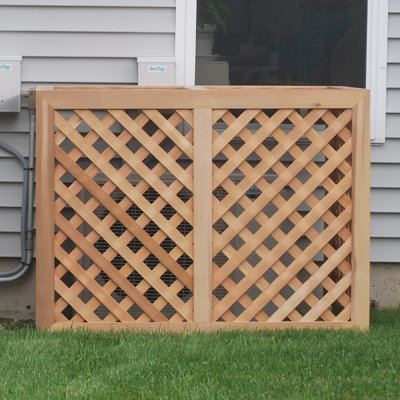 This western red cedar lattice enclosure is to cover up those unsightly air conditioner boxes and generators. This western red cedar lattice enclosure is skillfully handcrafted by master craftsmen. It is constructed with the highest quality western re...
Buy Now
$1,256.49
Related Products
Air conditioner covers. Summer/All-season air conditioner covers will keep the bottom of your a/c unit clear of leaves and debris buildup, This cover may be left on while the unit is running. When leaves or debris decay they give off acidic gases that eat at your ac unit's copper tubing, by making small holes that allow freon to escape, causing your compressor to fail........PremierAcCovers extend the life of your unit preventing rusting parts by moisture being trapped inside Our covers are durable and made of tough, synthetic fabric, pvc-coated polyester breathable 1/4 inch mesh, We offer a Full 5 year manufacturer's warranty...100% satisfaction guaranteed or you money back including shipping within 30 days.....Each purchase, contains directions for quick and easy installation, no tools needed.......... Four nylon long lasting bungee cords are included.... Made in the U.S.A. with American made materials.
View Item
UV-resistant fabric to prevent fading. Stain-resistant surface that wipes clean with a damp cloth. Made of 600-denier polyester fabric for a cloth-like feel. Carry/storage bag is included. Edges are sewn, not heat-welded, for superior strength. 1 year manufacturer's warranty.
View Item