Wood Lattice Panel Trellis Size: 4' W x 4' D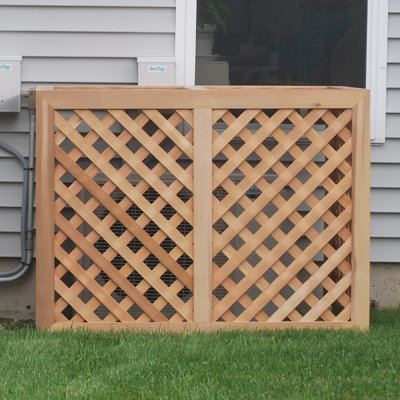 This western red cedar lattice enclosure is to cover up those unsightly air conditioner boxes and generators. This western red cedar lattice enclosure is skillfully handcrafted by master craftsmen. It is constructed with the highest quality western re...
Buy Now
$1,226.80
Related Products
Designed with water repellent PVC, this cover will resist any weather conditions. This cover is waterproof and weather resistant. With the toggle and drawstring feature, you can secure the cover tightly around your unit and the side air vents prevent lofting and mildew grow. Keep your AC unit free from ice, snow, leaves, and debris with this cover!
View Item
100% Waterproof "Like water off a duck's back"//Breathable, UV treated material//Easy to use, lightweight material that's easy to fold and store//2" wide hook and loop fastener straps to secure cover in place//Store cushions separately when not in use/...
View Item