'Canning Kitchen II' Print on Wrapped Canvas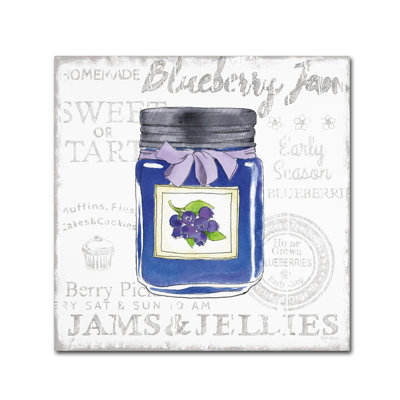 This ready to hang and gallery wrapped art piece features a jar of blueberry jam on a collaged text background//Artist Beth Grove//Subject Cuisine//Style Cottage Country//Made in the USA//Subject Food & Beverage//Primary Art Material Details 65% polyes...
Buy Now
$109.99
Related Products
Made of heavy-duty tin, this classic tomato squeezer is used to extract juices and pulp from tomatoes. A great tool for canning, the 1.5 mm perforations in the conical tin sieve are just the right size to retain seeds and skin, while allowing crushed ...
View Item
The NutriChef Kitchen Dehydrator effectively works to remove moisture, drying your food and reducing spoilage. The multi-level trays allow for enhanced air-flow for prolonged food shelf-life & preservation. Your food will last longer and the removal of moisture content is far more beneficial than canning or freezing.The simple one-touch button operation makes it even easier to prepare foods. Saves time, money and valuable cabinet space, making it great for food storage or stocking up for the winter. It works great with a wide variety of food groups and is perfect for making healthy, oil-free veggie chips for the kids -- or hardy beef jerky for dad. Features: Multi-Tier Kitchen Appliance Dehydrates Food for Enhanced Preservation Scientifically Tested to Increase Food Shelf Life Easy, Single Button Operation and Nutritious Results Faster & More Efficient Alternative to Food Dehydration Effectively Dries Food by Removing Moisture Content Great for Food Storage: Drying Causes Food to Shrink Food Reconstitution: Food Absorbs Water & Swells to Original Size Dehydration Retains up to 97% of Vitamins & Minerals Healthier Choice Alternative than Canning or Freezing Your Food Maintains Nutritional Value Prepare Healthy Snacks for All Ages Dries Your Food to Reduce Spoilage Stain Resistant & Easy-to-Clean Simple One-Press Button Operation Reaches Maximum Temperature of 180° F (5) Tier Trays for Enhanced Air-Flow High-Heat Circulation Travels Through Each Tray Heat Resistant and Dishwasher Safe Trays Works with a Wide Variety of Foods Meat, Fish, Poultry, Fruits, Vegetables and More Use for Meats to add in Stews, Soups, etc. Perfect for Making Oil-Free Veggie Chips Make Home-Made Beef Jerky Sold as: 1 Weight: 7.26 lbs.
View Item