Waste Watcher® Mixed Recyclables Compost 69 Gallon 3 Piece Recycling Bin Set Color: Blue/Green/Black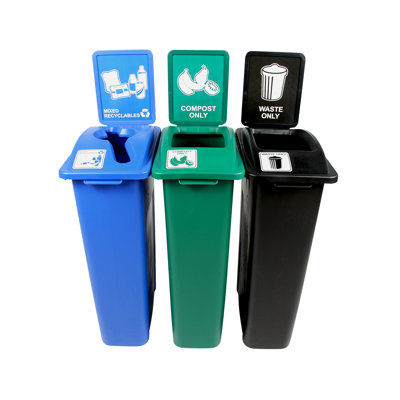 Do your part to improve those numbers and save your organization time and money with the extremely popular Waste Watcher Series trash can and recycle bin combo-the most versatile and customizable stations available Features: -Comes with sign frame.-Ea...
Buy Now
$519.99
Related Products
Compost in style with Vesta Kitchen's premium copper-plated compost bin! Create your own organic fertilizer without the smells and unsightliness of plastic containers while protecting your compost from bacteria growth and unhealthy chemicals. This attractive compost holder features a gorgeous copper-plated exterior and is composed of tough stainless steel--it provides beauty and elegance to any rustic, contemporary, or modern kitchen. Composting at home is beneficial for you and for the environment--a few of these benefits are: less garbage, less resource consumption, lower water bills (when using compost as a soil mulch), and the creation of free fertilizer that is organic and nutrient-rich. Vesta Kitchen's copper-plated bin is ideal for indoor composting! Here's why: * EASY TO USE: makes organic recycling quick and easy--simply place this bin on your kitchen countertop and deposit food scraps throughout the day. Store your compostable materials for extended periods of time without the hassle of having to visit an outdoor compost bin every time you cook. Ideal for storing eggshells, vegetables and fruit scraps, and more. * EASY TO CLEAN: dirt comes off the stainless steel interior with ease--use soap and warm water. * PREMIUM COPPER: the finest copper plating and the finest steel components for world-class kitchens. * BONUS FILTER: comes with two charcoal filter sets instead of one! * CONVENIENT SIZE: small enough for nearly any countertop; big enough to hold a great deal of compostable materials throughout the week. Sturdy handle makes it easy to lift and empty. (Dimensions: 10.5" x 6" x 6.25" (HxWxD).) * PERFECT GIFT for holidays, birthdays, or your seventh wedding anniversary. The seventh wedding anniversary gift is traditionally made of copper--this compost bin is a lovely addition to any home! Take advantage of our limited-time sale price: scroll up and click the Add to Cart button today!
View Item
Comes with lift lids to mask smells from the waste and compost streams//Comes with sign frame//Easy to grip handles//Easy to read labels//Easy to read signage//Lightweight//Intended Use Industrial//Primary Material Details HDPE//Removable Lid//Product ...
View Item