37 Gal. Tumbler Composter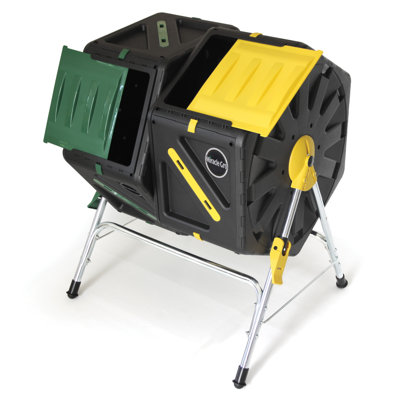 The Miracle-Gro Dual Chamber Tumbling Composter has two 18.5 gallon (70 liter) chambers for added composting convenience. The "green" gardener can now be using the finished compost in one chamber while the other chamber is compost processing. Heavy Du...
Buy Now
$103.99
Related Products
Ready to move up to a bigger, better composter? We've used dozens of compost bins over the years, and have incorporated all the features we like best into our Deluxe Pyramid Composter. The lid is hinged so you can open it with one hand, yet it can't blow away. Narrow side vents ensure good ventilation. Two sliding doors, front and back, stay open to make removing compost easy. Best of all, the signature self-watering lid lets in the right amount of rainwater for optimum performance. Convenience and large capacity at a great low price! Holds 12 cubic feet. Open bottom; add the optional Rodent Screen (sold separately) to keep pests out.
View Item