Compost Wizard 50 Gal. Tumbler Composter with Booster Kit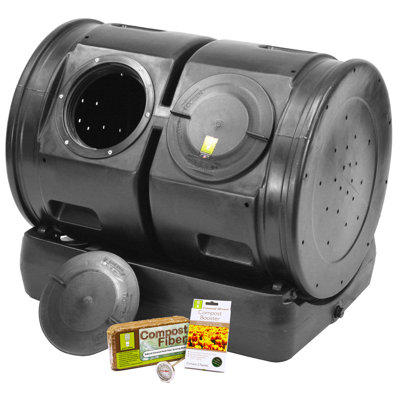 Kits includes composter, coco fibre brick, accelerant and thermometer//7 Cubic foot total capacity (3.5 per chamber)//A compost tumbler and accessory kit combo//Black colour for heat absorption//Compost Tea collecting base with wheels (up to 5 gallons)...
Buy Now
$304.99
Related Products
Leave it to the British to design a very attractive and easy to clean kitchen bucket to collect organic waste to recycle into compost. Bucket-in-bucket design makes it easy to carry the waste to the compost bin/pile. Not too big-not too large: Perfect size to keep on top of a kitchen counter. Lid comes with a clear rubber seal to limit odor and pests. 1-gallon capacity. Dishwasher safe.
View Item
Measures: 5.5" x 5.5" / 14cm x 14cm. Set of 2 filters. Charcoal filters help absorb odors that compost pails produce. Each filter is 5.5 inches in diameter, round. Made as replacement filters for Norpro's ceramic compost keepers, items #83, #93, #93R and #93EB. Filters should be changed approximately every 6 months, depending on use, heat and humidity. Let food cool down before putting in your composter. Moisture from warm product can decrease the time for changing the filter. Do not wash and reuse the filter. The charcoal in the filter absorbs the odors and once it has fully absorbed to its maximum, discard filter. *To replace filter, pull old filter out and toss. Inside replacement pack are two round filters. Only one filter is needed at a time and fits easily and snugly inside the lid. Norpro was founded in 1973 with a vision to design, manufacture, and supply the highest caliber kitchenware. Norpro's offering of innovative, high quality product for cooking, preparing and serving food are produced with superior materials and craftsmanship.
View Item