Compost Wizard 50 Gal. Tumbler Composter with Booster Kit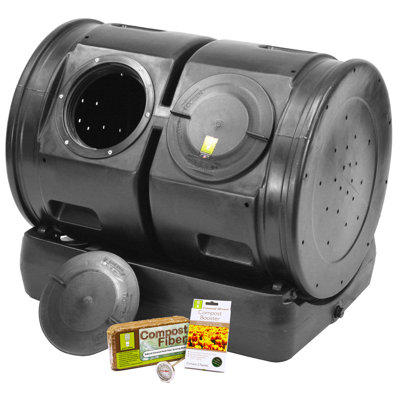 Kits includes composter, coco fibre brick, accelerant and thermometer//7 Cubic foot total capacity (3.5 per chamber)//A compost tumbler and accessory kit combo//Black colour for heat absorption//Compost Tea collecting base with wheels (up to 5 gallons)...
Buy Now
$274.99
Related Products
Get the most value for your money with Top-Rated Professional Grade Compost Bin! It's time you trade up from that ugly and eco-unfriendly plastic pail you've been using, to this stylish canister that you'll be proud to display on your kitchen counter. Our Compost Bin is sleek and stylish and is specifically made to store kitchen waste such as vegetable peelings and can be stored perfectly on kitchen counter tops or under the kitchen sink. No need to hide it under the cabinet or under the sink. It won't rust, scratch or chip, and it's easy to clean. Plus, it doesn't harbor bacteria or leach unhealthy chemicals as plastic containers can do; this is especially important if your compost will be used on food crops. Capacity: 1.3 gallon • Stylish Design • Rust Free • Built in replaceable Charcoal filter • Odor free • Easy Cleaning • Chemical free
View Item
Heavy duty steel tube frame construction//Drum is constructed from 90% recycled plastic material//2 Wheels on frame for each mobility//Enables air circulation to speed composting//Built in mixing fins helps break up clumps//Drain hole No//Product Type ...
View Item