Compost Wizard 52.38 Gal. Tumbler Composter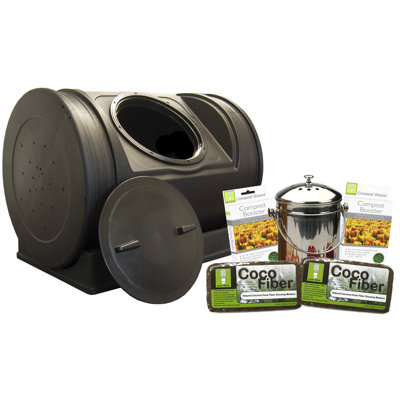 Starter kit includes 1 compost tumbler, 2 accelerator pouches, 2 compost fibre bricks, 1 compost pail//Low maintenance//Wheeled base//Large 12'' twist lid//Safe for pets and children//Made in the USA//Capacity 52 3 8 Gallon//Black colour for heat absor...
Buy Now
$305.99
Related Products
Material of construction High density polyethylene (HDPE)//Powder coated steel frame//Galvanized steel base//Heavy duty UV protected HDPE panels Brown dual wall panels to absorb and retain heat//Balanced lightweight construction Galvanized steel base//...
View Item
What does your cup say about you? These cups, made from FSC certified paper, say a lot. They say you care about the environment because the paper comes from sustainably managed forests. These cups also have a leak proof bio lining, which makes them compostable within 3-6-Months in a commercial composting system. With simple steps like these, we can make a big impact. Both the cups and the bag they come in are 100-percent compostable! We donate 25 Percent of profits to grassroots social and environmental organizations.
View Item