Compost Wizard 6.5 cu.ft. Tumbler Composter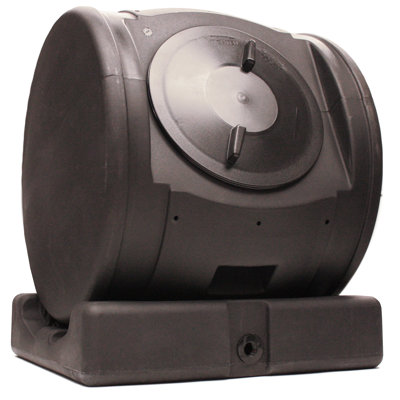 The Good Ideas Compost Wizard EnviroTumbler is a compact and wonderful device that produces nutrient-rich compost. This tumbler is constructed using plastic that is strong and durable and can withstand all weather conditions. It has twist-off lid that...
Buy Now
$149.99
Related Products
Good Ideas CWET-BLK Compost Wizard EnviroTumbler, Black makes composting easy and fun. Its revolutionary, compact design, saves space and waste. This compost tumbler comes in two pieces. No assembly is required: you'll be ready to compost in less than a minute. The dark plastic absorbs the suns heat, allowing your kitchen scraps, yard waste and other organic matter to quickly break down into fresh compost (hummus). Not only do you get to enjoy fresh earthy compost, you can also harvest the excess compost tea from the batch. As you turn the drum, any excess liquid automatically drains out into the base. You can then drain the stored tea directly onto plant roots. Compost tea is some of the best, most nutrient packed natural fertilizer you can get. With the low profile of this unit, you can rest assured that your composter won't tip over easily in the wind. You can also remove the drum from the base to quickly roll your batch to any desired location around the lawn. You can then use your compost like mulch in your gardens or spread it on your lawn. The moisture and nutrients will gradually seep into the ground. Ask any gardener and they'll tell you that compost and fresh rain water give some of the best, heartiest plants out there.
View Item
5.7 cubic foot total capacity//Coated tubular steel frame//Fresh compost in as little as 1 month//Low friction bearing for virtually effortless turning//Material 100% Recycled plastic//Slide sealing lid//Sturdy, weatherproof construction//Two chambers ...
View Item