Composter 9.5 cu. ft. Tumbler Composter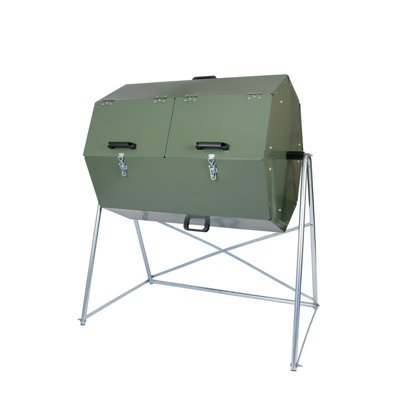 The Jora Composter simplifies and speeds up the process of making compost. It is a 'continuous-use' dual chamber composter. Dual chambers allow you to keep adding new materials to one compartment while the other matures. Because the unit is insulated ...
Buy Now
$409.99
Related Products
Made of durable 100% recycled polyethylene plastic//Requires only weekly rotation//Twist off lid for easy access and security//End air vents create essential ventilation//Can be rolled to any location for filling or dispensing//Wheeled base makes turni...
View Item
The Good Ideas Compost Wizard EnviroTumbler is a compact and wonderful device that produces nutrient-rich compost. This tumbler is constructed using plastic that is strong and durable and can withstand all weather conditions. It has twist-off lid that...
View Item