10 Tray Food Dehydrator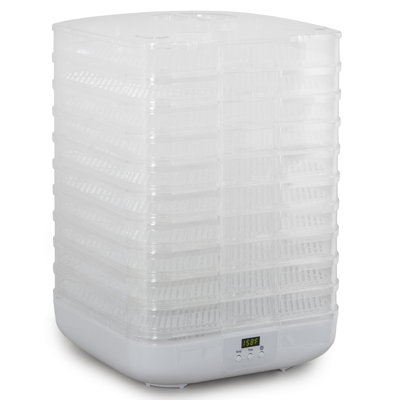 The warm air of a fixed, controllable temperature circulates freely inside the appliance between the upper and lower lids, the separate removable sections, and the power base. This is how foods dry evenly and with minimal loss of nutrition and vitamin...
Buy Now
$68.99
Related Products
A dehydrated strawberry supply from Legacy Essentials is perfect for any fruit lover. This survival food is high in Vitamin C, low in natural sugars and provides potassium and antioxidants to keep you and your family healthy and strong during any emergency. Dehydrated strawberry supply is ready to eat right out of the bag or can be softened in water beforehand. Choose to enjoy delicious survival strawberries now or store as an emergency food for up to fifteen years.
View Item
Della feature brand new Food Dehydrating The unit will easily fit between most standard kitchen counter tops and the upper wall cabinets. The drawers have a Heat Retaining Lip Design that eliminates the need for a bulky front panel door and works extr...
View Item