10 Tray Food Dehydrator Shelf Finish: Stainless Steel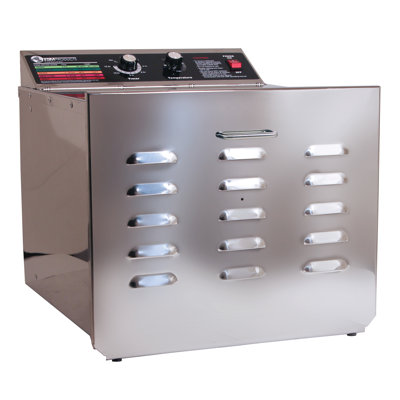 Features: -Includes 10 drying trays.-Easy to clean.-Rear-mounted fan for horizontal air flow and louvered door.-Hole is added in the center of the removable door for placement of an additional thermometer.-Recommended for raw food cooking and for dehyd...
Buy Now
$616.99
Related Products
When it comes to packing for your backcountry adventure, lighter is better. Gone are the days of lugging heavy cans and boxes of food. Our dehydrated food is ultralight and goes a long way. In our Backpacking Kit, you get over 70 servings of veggies, beans, and lentils! Our Backpacking Kit is such a terrific value that it won the Editor's Choice Award from Backpacker Magazine, for overall excellence! DELICIOUS MIX OF READY TO COOK INGREDIENTS: Each kit includes a wide variety of wholesome foods: carrots, potatoes, green peas, tomatoes, celery, green beans, sweet corn, green cabbage, red and green peppers, onions, black beans, northern beans, red beans, pinto beans and lentils. Everything you need for gourmet backpacking meals! EASY GOURMET BACKPACKING MEALS: Preparing for a backpacking trip is a lot of work. Let us take care of the food prep. The food in this kit comes fully prepped, chopped, dried, and bagged in resealable zip pouches. And it's easy to cook! You just add water. Cooking time is 10-15 minutes, and clearly outlined on our packaging. Simply pour the desired rations into your pot, simmer, season, and enjoy! SAVOR YOUR ADVENTURE: This kit provides easy, portable meals for your favorite outdoor activity, whether that's backpacking, hiking, camping, paddling, hunting, or fishing. It's an essential backpacking accessory and a great gift for the hikers, campers, hunters, fishers, paddlers, and other adventurers in your life. It's also a convenient way to supply your pantry for everyday use. It maximizes food storage capacity in tiny camper cupboards. It's a worthwhile investment in emergency preparedness or survival prep. And it's perfect for travel! PREMIUM QUALITY DEHYDRATED FOOD: We use a special air-drying process to preserve the nutritional content of our non-GMO ingredients. Our food is free from pesticides, chemicals, and heavy metals. It's also gluten-free, vegetarian, vegan, high-protein, low-sodium, and kosher.
View Item
2 servings, outdoor cheesy Lasagna, cook in the pouch, ready made meal, extra strength Mylar pouches ensure freshness for up to 7 years, each meal is prepared in minutes by just adding water, making them perfect for everyday use, backpacking, camping, hunting, fishing, boating & RV traveling.
View Item