20 Tray Commercial Food Dehydrator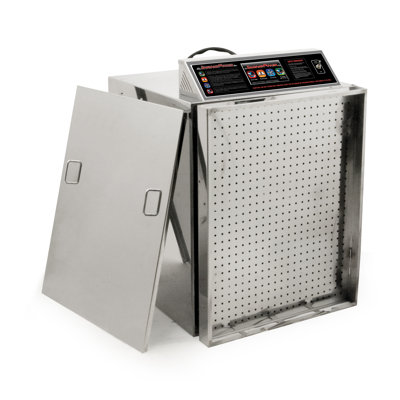 The D20 is designed to handle large volume food dehydrating and is designed to exacting NSF sanitary specifications. A multi-functional touch screen control has been developed for creating up to six customized dehydrating recipes. Additionally, three ...
Buy Now
$6,089.99
Related Products
Includes four trays. Converge flow drying system ensures even drying with no need to rotate trays. Dries food in hours, not days. Adjustable thermostat ranging from 95 degree fahrenheit - 155 degree fahrenheit to enable user to dry foods at the proper temperature. Fruit roll-up sheet and 52-page care and use book. Warranty: One year limited. Weight: 10.89 lbs..
View Item
Features: -5-Tray electric food dehydrator.-Contemporary countertop design fits well in any kitchen.-5 Interchangeable trays.-Electrical heating coils produce convection air flow for evenly dried food.-Internal operating temperature of up to 133 degree...
View Item