20 Tray Commercial Food Dehydrator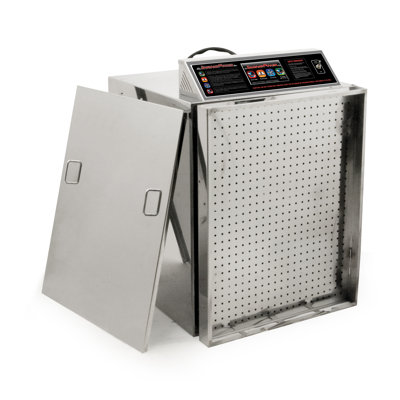 The D20 is designed to handle large volume food dehydrating and is designed to exacting NSF sanitary specifications. A multi-functional touch screen control has been developed for creating up to six customized dehydrating recipes. Additionally, three ...
Buy Now
$5,499.99
Related Products
Features: -Includes instructions and recipes in the manual (no actual recipe booklet included)..-6 Tray.-Dehydrated foods easily release from trays.-Ultra quiet 5.5'' fan.-Rear mounted drying system circulates air from back to front through each tray.-...
View Item
The 720 Serving Package from Legacy Premium provides 3 hearty meals per day for 8 months for one person and is a wonderful addition anyone's existing food supply. With eight months' worth of food for one person stored in six stackable buckets this package fits comfortably into most closets. Breakfasts - Multi-Grain Cereal - 56 Servings Oatmeal with Brown Sugar - 64 Servings Strawberry Creamy Wheat - 56 Servings Old Fashioned Pancake Mix - 64 Servings Entrees: - Italian Pasta with Marinara- 32 Servings Pasta Alfredo - 32 Servings Pasta Primavera - 32 Servings Enchilada, Beans, and Rice - 32 Servings Stroganoff - 32 Servings Loaded Baked Potato - 32 Servings Hawaiian Style Sweet 'n Sour - 16 Servings Creamy A La King - 32 Servings Vegetable Rotini Pasta - 16 Servings Chili Mac - 16 Servings Macaroni and Cheese - 32 Servings Cheese and Broccoli Soup - 16 Servings Many More! Package Features - Average of 370 calories per serving 3 servings per day for one person for eight months 3 meals per day includes a hearty meal for breakfast, lunch, and dinner 4 breakfast and 19 lunch/dinner entrees included GMO Free 25 year shelf life Made in the USA Lowest Cost per Serving and Calorie in the Food Storage Industry Meals come packaged in 4-serving Mylar pouches with Oxygen Absorber & Nitrogen Flush Simple to prepare - Just add water! Storage Info - Weight - 185 lbs Total Number of Buckets - 6
View Item