20 Tray Commercial Food Dehydrator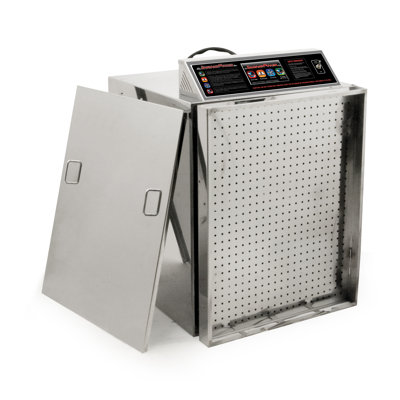 The D20 is designed to handle large volume food dehydrating and is designed to exacting NSF sanitary specifications. A multi-functional touch screen control has been developed for creating up to six customized dehydrating recipes. Additionally, three ...
Buy Now
$5,599.99
Related Products
A mouthwatering spicy chili with macaroni and beans.Ingredients: cooked beef (beef flavoring, salt), enriched macaroni (durum semolina, niacin, iron [ferrous sulfate], thiamine mononitrate, riboflavin, folic acid), kidney beans, tomato paste, chili seasoning (chili pepper and other spices, dehydrated onion and garlic, hydrolyzed soy protein, potassium chloride, paprika, sugar, maltodextrin, beef extract, disodium inosinate and disodium guanylate, autolyzed yeast extract, caramel color, natural flavors, citric acid), modified corn starch, salt and dehydrated onions. Allergens: wheat, soy and sulfites
View Item
The Augason Farms dehydrated Apple slices are made from grade a granny Smith apples, and chosen for firm texture and Tart goodness. These are delicious right out of the can or add water to use in your favorite recipes. Ready to use--no washing, peeling, or slicing needed. No matter the case, this #10 can is an absolute essential in an emergency: it's easy to transport and includes all your food storage needs. Make the wise decision and let Augason Farms give you a peace of mind that's as indispensable as it is delicious. Family owned and operated since 1972, Augason Farms believes that great taste is a tradition worth preserving. They'll provide you with delicious peace of mind with their food essentials. Augason Farms recognizes that today's consumers are more concerned than ever before about what kind of foods they eat, and want to provide their families with food that is safe and the best quality. Whether enjoying Augason Farm's products for everyday meals, as an emergency food supply, or years down the road, you can be confident that Augason Farms long-term food storage products are guaranteed for quality and taste every time. Please discard oxygen absorber after opening. Best when stored in a cool dry place at temperatures between 55 degrees and 70 degrees F (ideal humidity 15%).
View Item