5 Tray Food Dehydrator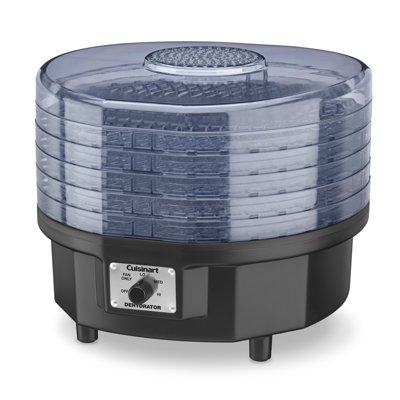 The Cuisinart® Food Dehydrator makes it easy to create nutritious, delicious, dried snacks like meat jerky, fruit roll-ups and veggie chips. It preserves foods naturally, without additives or preservatives. A powerful 620-watt motorized fan has a top ...
Buy Now
$58.71
Related Products
The perfect addition to any kitchen, the snack master food dehydrator helps dry food in hours, not days like ordinary food dehydrators. The adjustable thermostat lets you dry different foods at the correct temperature, for more flexible and delicious ...
View Item
With the unpredictability of the world we live in, having an ample amount of freeze-dried food storage is always a good idea. Whether it's a natural disaster that temporarily leaves you with limited resources, a pre-planned family camping trip, a backup plan in case of income loss, or just purely a matter of convenience, Valley Food Storage is there to help. We've based our business on the principle that you don't have to compromise good quality and taste when getting freeze-dried food storage. Our foods are made with high-quality ingredients, deliciously bold flavors, and the science and technology to ensure long-lasting viability. What makes us different from other food storage brands is the way we package our meals. We don't use MSG, and we ensure that harmful ingredients like hydrogenated oils and syrups, trans fats, and GMOs. Not only is this healthier for you and your family; it increases the shelf life of our products, keeping them fresh, delicious, and safe to eat for up to 25 years. When it comes to camping and backpacking food, Valley Food Storage has you covered. We offer easy-to-transport, nutritious meals and snacks that will keep you energized for your journey ahead. Valley Food Storage uses only the highest quality ingredients to ensure you get the best-tasting snacks with the highest nutrition. Our lightweight and high-quality bags protect your food from the elements without compromising the ease of transport with unnecessary weight. Another great feature is their resalable tops that keep food protected even if you do not use the whole bag. These bags, hand nitrogen flushed, are far superior to our competition. Other competitor's bags feel like thin tin foil that could rip at any time. With Valley Food, you can feel confident that the packaging was designed to make sure your food will be there when you need it!
View Item