5 Tray Food Dehydrator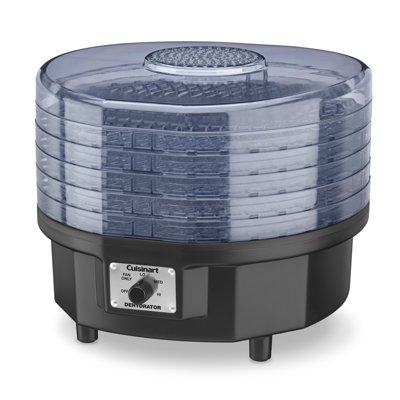 The Cuisinart® Food Dehydrator makes it easy to create nutritious, delicious, dried snacks like meat jerky, fruit roll-ups and veggie chips. It preserves foods naturally, without additives or preservatives. A powerful 620-watt motorized fan has a top ...
Buy Now
$61.96
Related Products
The warm air of a fixed, controllable temperature circulates freely inside the appliance between the upper and lower lids, the separate removable sections, and the power base. This is how foods dry evenly and with minimal loss of nutrition and vitamin...
View Item
Save money and time by creating your own healthy snacks quickly and easily at home with the Elite Gourmet 5-tray Food Dehydrator. It's never been so easy to whip up a batch of beef or turkey jerky, banana, pineapple or apple chips or dry your favorite...
View Item