5 Tray Portable Electric Food Dehydrator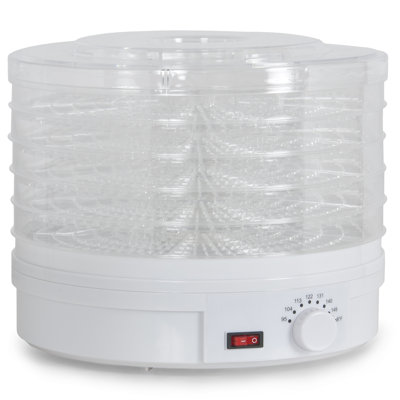 The warm air of a fixed, controllable temperature circulates freely inside the appliance between the upper and lower lids, the separate removable sections, and the power base. This is how foods dry evenly and with minimal loss of nutrition and vitamin...
Buy Now
$45.99
Related Products
Enjoy all your homemade dried favorites with the Aroma Food Dehydrator. Perfect for everyone from outdoor hobbyists to the health-conscious, this dehydrator is designed for efficient, even drying. Fruit leather. Trail Mix. Custom potpourri. Dried Herb...
View Item
Includes five drying trays, two clean-a-screens, two fruit roll sheets, original jerky spice. Adjustable thermostat (95-160º F) provides the flexibility to produce the best drying results. Top mounted fan and 700 watts of drying power generate maximum speed and quality for dehydrating fruits, vegetables and jerky. Opaque vita-save exterior helps block harmful light which destroys nutritional content of food being dehydrated. Patented converge-flow drying system forces air down the exterior pressurized chamber for faster drying and no flavor mixing. Sleek, contemporary design. Warranty: One year. Gray and marble color. 14 in. L x 14 in. W x 10.88 in. (8.5 lbs.). The Snackmaster Pro is one of the newest dehydrators in the Nesco/American Harvest product line. Helps dry food in hours, not days like ordinary food dehydrators. Makes delicious Beef Jerky even turkey jerky, and fish jerky. Make trail mix, homemade yogurt, apple snacks, banana chips, dried soup mixes, dried tomatoes, watermelon, cantaloupe, honeydew, mangoes, papaya and other dried fruits at a fraction of the cost. Make dried herbs and spices; also make potpourri and dried flowers for any occasion.
View Item