Dehydro 6 Tray Digital Food Dehydrator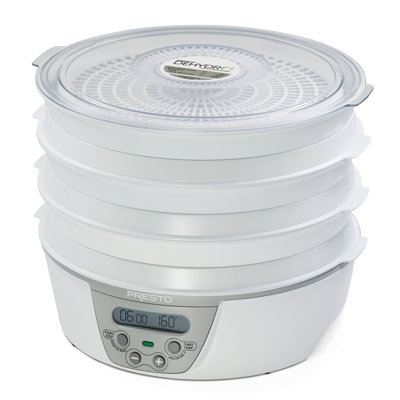 Dehydrates fruits, vegetables, herbs, spices and more. Great for making jerky and fruit rolls! Drying trays nest for compact storage. Features: -Includes 2 nonstick mesh screens for drying small foods and sticky fruits.-6 Drying trays included.-6 Tray...
Buy Now
$69.26
Related Products
The Augason Farms potato shreds can be prepared as delicious Hash browns, Skillet dishes, casseroles, or any recipe that calls for potatoes. Packed with vitamin C, these potato shreds are a great Source of nutrition. The potato shreds are contained in a 6-gallon watertight pail including 146 servings and 16,060 total calories. Augason Farm's products are an excellent choice for food storage, emergencies, survival, camping and everyday use! family owned and operated since 1972, Augason Farms believes that great taste is a tradition worth preserving. Crafted with a focus on taste and nutrition, their products are manufactured to the highest standards. Whether enjoying Augason Farm's products for everyday meals, as an emergency food supply, or years down the road, you can be confident that Augason Farm's long-term food storage products are guaranteed for quality and taste every time. Make the wise decision and let Augason Farms' food essentials give you a peace of mind that's as indispensable as it is delicious. Product good for up to 25 years when unopened. Best when stored in a cool, dry and dark place at temperatures between 55 degrees F and 70 degrees F. Actual shelf life may vary based on individual storage conditions. Please remove and discard oxygen absorber after opening.
View Item
The D20 is designed to handle large volume food dehydrating and is designed to exacting NSF sanitary specifications. A multi-functional touch screen control has been developed for creating up to six customized dehydrating recipes. Additionally, three ...
View Item