Deluxe 5 Tray Electric Food Dehydrator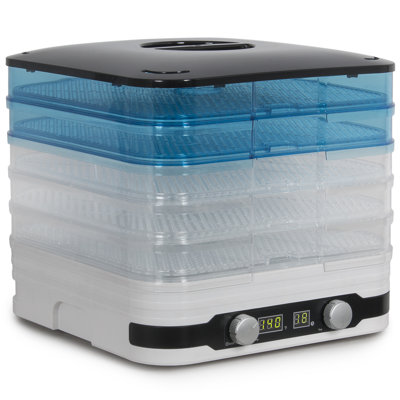 The warm air of a fixed, controllable temperature circulates freely inside the appliance between the upper and lower lids, the separate removable sections, and the power base. This is how foods dry evenly and with minimal loss of nutrition and vitamin...
Buy Now
$60.99
Related Products
This bucket includes 120 servings of breakfast survival foods. No entrees. Included in this kit:- 5 pouches of strawberry granola crunch (20 servings)- 5 pouches of brown sugar and Maple multi-grain cereal (40 servings)- 5 pouches of crunchy granola (20
View Item
The D20 is designed to handle large volume food dehydrating and is designed to exacting NSF sanitary specifications. A multi-functional touch screen control has been developed for creating up to six customized dehydrating recipes. Additionally, three ...
View Item