Deluxe 5 Tray Electric Food Dehydrator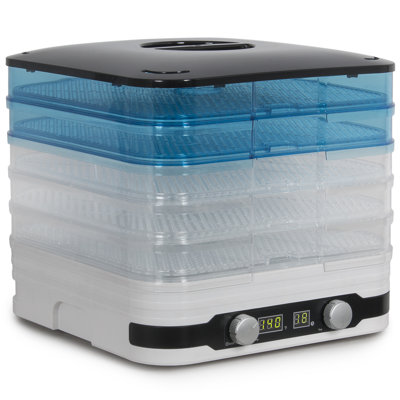 The warm air of a fixed, controllable temperature circulates freely inside the appliance between the upper and lower lids, the separate removable sections, and the power base. This is how foods dry evenly and with minimal loss of nutrition and vitamin...
Buy Now
$58.99
Related Products
Nesco's Digital Dehydrator features 600 watts of drying power that generates maximum speed and quality for dehydrating fruits, vegetables, herbs, beef jerky, and venison jerky. Helps dry food in hours, not days like ordinary food dehydrators. The Pate...
View Item
Hamilton Beach 32100A Food Dehydrator, Gray. Looking for snack options that are high in nutrients but low in calories? Want to offer your family delicious food options to dress up morning oatmeal or replace that bag of potato chips at lunch? The Hamilton Beach Food Dehydrator helps accomplish these goals by taking food preparation to the next level. It opens the door to endless possibilities deemed too difficult to do in the past. With five stack-able drying trays and 500 watts of power, it's easy to dry a variety of fruits and vegetables, and even make beef jerky. The continuous airflow feature provides even drying, eliminating the need to rotate trays. This dehydrator includes an adjustable thermometer for better performance and a timer with automatic shutoff. The Hamilton Beach Food Dehydrator comes with two specialty sheets for added versatility. Use the mesh sheet to dry garden herbs for year-round enjoyment, or puree summer fruits and spread on the solid sheet for homemade fruit rolls. Wholesome, home-made snacks for the entire family. Healthy snacks without additives or preservatives Perfect for drying fruits, vegetables, jerky & more 5 stackable drying trays 1 fine-mesh sheet for drying small food like herbs 1 solid sheet for making fruit rolls We are an authorized dealer Brand New Hamilton Beach 32100A 5 Tray Stacking Countertop Food Dehydrator, Gray Healthy snacks without additives or preservatives 48 hour timer with auto shutoff and clear lid so you can easily check food. Adjustable digital thermostat lets you adjust drying temperature (100-160° F). Continuous airflow provides even drying. Five stackable drying trays and powerful 500 watts. Includes one fine-mesh sheet for drying small food like herbs and one solid sheet for making fruit rolls. Perfect for drying fruits, vegetables, jerky & more 5 stackable drying trays 1 fine-mesh sheet for drying small food like herbs 1 solid sheet for making fruit rolls 48 hour timer with auto shutoff Adjustable digital thermostat Clear lid lets you easily check on food Continuous airflow provides even drying and eliminates the need to rotate trays Powerful 500 watts Digital thermostat lets you adjust drying temperature (40-70° C/100-160° F) BPA Free in food zones Product Dimensions: 11.2 x 5.9 x 12.8 inches Product Weight: 8.00 Pounds Product Condition: Brand New Part Number: 32100 Warranty 2 years (One year manufacturer warranty + one year VMInnovations warranty
View Item