Deluxe 5 Tray Electric Food Dehydrator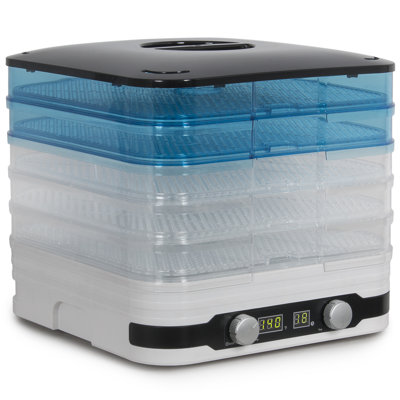 The warm air of a fixed, controllable temperature circulates freely inside the appliance between the upper and lower lids, the separate removable sections, and the power base. This is how foods dry evenly and with minimal loss of nutrition and vitamin...
Buy Now
$58.99
Related Products
* BESTSELLER * When only the best will do... SEE and taste the difference in our products. We only select PREMIUM INGREDIENTS to carry our name. This pack contains our ZIP Pouch (1 cup) of the following: Broccoli Flowerets, Green Cabbage, Diced Carrots, Sliced Celery, Whole Sweet Corn, Green Beans, Jalapeno Dices, Tangy Green & White Leeks, Chopped Onions, Green Sweet Peas, Red & Green Mixed Bell Peppers, Diced Potatoes (excellent flavor), Spinach Flakes, Tomato Dices, Tomato Powder, Lentils, Split Peas, Red Beans, Black Beans, Navy Beans, Garbanzo Beans, Great Northern Beans, Dark Kidney Beans, Pinto Beans, Beefish Bits (Meatless), Chickenish Bits (Meatless), Hamish Bits (Meatless), Taco Bits (Meatless), Chickenish Chunks (Meatless), Beefish Chunks (Meatless). SAVE BIG while sampling 30 of our dehydrated vegetables, legumes, & TVP products! Try 'em all the easy way! Total yield when rehydrated = 70+ Cups (Kosher OU)
View Item
Nesco's Digital Dehydrator features 600 watts of drying power that generates maximum speed and quality for dehydrating fruits, vegetables, herbs, beef jerky, and venison jerky. Helps dry food in hours, not days like ordinary food dehydrators. The Pate...
View Item