EZ Store Turbo 5 Tray Food Dehydrator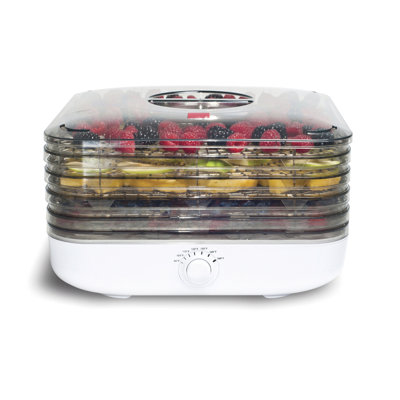 Features: -Material: Plastic.-Preserves nutritious and flavorful vegetables, fruits and herbs and makes great jerky.-Adjustable temperature control dries foods quicker with consistent results.-Trays and lid are dishwasher safe.-Stacks 5 trays high.-Pro...
Buy Now
$53.99
Related Products
HARMONY HOUSE DEHYDRATED MINCED GARLIC, PREMIUM NON-GMO, KOSHER CERTIFIED PRODUCE, CONTAINS NO GLUTEN What's Included? Included is one full quart size jar of our delicious and healthy Dehydrated Minced Garlic. Shelf Life: The shelf-life of dehydrated products is infinite as long as you can isolate them from moisture and oxygen. Our clean, high-grade quality products are packaged for daily use rather than long term storage. The suggested shelf-life of our premium products (opened or sealed) is 12-24 months. The majority of our customers will experience shelf lives much longer than this, but due to the variables of climate, humidity, and temperature, we give this broad and conservative shelf life. REHYDRATION FORMULA: Use this handy conversion formula to find the yield by weight. Garlic, Minced - 6 oz. dried fruit yields 20 oz. hydrated THE HARMONY HOUSE FOODS DIFFERENCE Our Harmony House Foods products are guaranteed to meet or exceed your expectations. We take great care to ONLY carry premium produce. All dehydrated vegetables are NOT equal! If you've ever tried other brands of dehydrated veggies then tried Premium Harmony House Foods Vegetables, you know that there are varying degrees of quality- and we only sell the best. We are FULLY FDA APPROVED. Our dehydrated foods are KOSHER, GLUTEN-FREE, and NON-GMO. Click ADD TO CART now to order your vegetable today!
View Item
Nesco's Digital Dehydrator features 600 watts of drying power that generates maximum speed and quality for dehydrating fruits, vegetables, herbs, beef jerky, and venison jerky. Helps dry food in hours, not days like ordinary food dehydrators. The Pate...
View Item