Food Dehydrator Drying Tray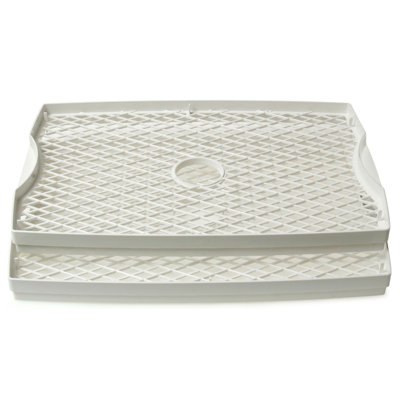 Add two extra drying trays to expand your Victorio VKP1050 digital dehydrator's capacity so you can dry more of the foods you love. Features: -Drying tray.-Drying trays to expand your dehydrator's capacity.-Designed for the Victorio digital food dehyd...
Buy Now
$26.99
Related Products
Features: -Includes instructions and recipes in the manual (no actual recipe booklet included)..-6 Tray.-Dehydrated foods easily release from trays.-Ultra quiet 5.5'' fan.-Rear mounted drying system circulates air from back to front through each tray.-...
View Item
The Augason Farms dehydrated potato shreds 23 oz #10 can are an easy way to make mouth-watering Hash browns. Handy for both camping and used in many side dishes. This is a certified gluten-free product that consists of 21 servings and 2,310 calories, with a shelf-life of up to 25 years. All this convenience makes it perfect for food storage, emergencies, survival, camping, and everyday use! make the wise decision and let Augason Farms give you a peace of mind that's as indispensable as it is delicious. Family owned and operated since 1972, Augason Farms believes that great taste is a tradition worth preserving. They'll provide you with delicious peace of mind with their food essentials. Please discard oxygen absorber after opening. Best when stored in a cool dry place at temperatures between 55 degree and 70 degree F (ideal humidity 15%).
View Item