L'Equip Life in Healthy Balance FilterPro 6 Tray Electric Food Dehydrator With Yogurt Cups & Fruit Leather Trays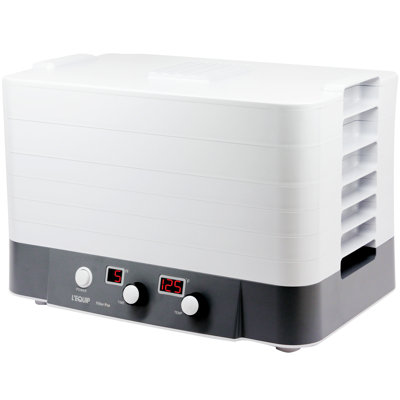 Features: -Dries fruits, vegetables, jerkies, yogurt.-Uniformly and consistently with a patented air filtration system.-Digital LED time and temperature display, 24 hour auto shut off timer and solid state variable temperature control.-Includes 6 Mesh ...
Buy Now
$159.99
Related Products
The Cuisinart® Food Dehydrator makes it easy to create nutritious, delicious, dried snacks like meat jerky, fruit roll-ups and veggie chips. It preserves foods naturally, without additives or preservatives. A powerful 620-watt motorized fan has a top ...
View Item
Relief Foods (gluten-free) all fruit bucket is a nutritionally packed selection of delicious fruit. The fruit comes packaged in a three-gallon polyethylene bucket designed for space saving stackable storage. Three delicious fruit options are available in our gluten-free bucket, apple slices, banana chips and mango dices. Having the ability to add fruit to your emergency food storage will give you peace of mind that your family will be well cared for in times of need. Creating delightful options is what we do, keeping family in mind. Included Inside: Apple Slices (30 Servings), Banana Chips (30 Servings), Mango Dices (30 Servings).
View Item