L'Equip Life in Healthy Balance FilterPro 6 Tray Electric Food Dehydrator With Yogurt Cups & Fruit Leather Trays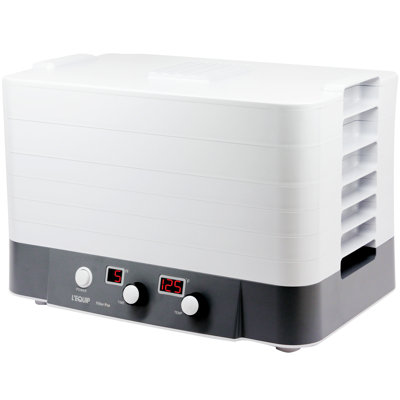 Features: -Dries fruits, vegetables, jerkies, yogurt.-Uniformly and consistently with a patented air filtration system.-Digital LED time and temperature display, 24 hour auto shut off timer and solid state variable temperature control.-Includes 6 Mesh ...
Buy Now
$155.99
Related Products
Introducing our newest Nesco Square Dehydrator (and Jerky Maker) the FD-2000. This dehydrators innovative design features 6 trays, 6 mesh screens, 2 expansion trays and 530 watts of drying power, and generates maximum speed and quality for dehydrating...
View Item
Our jar size contains a full quart of delicate mixed bell peppers (red and green) and comes with our freshness seal. Red and green mixed sweet peppers add variety to any meal. Use them in soups, stews or other recipes or just cook and eat plain. They hold more of their nutritional value than their canned or frozen counterparts so serve them to your family with confidence. Enjoy the fresh flavor and enticing color of red and green sweet peppers without all the washing, coring and dicing.
View Item