Vintage Dog Statue Color: Natural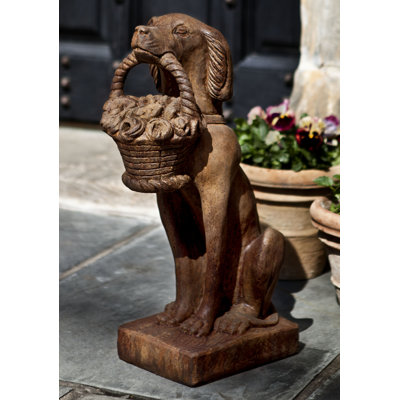 Features: -Material: Cast stone.-Patina or finish hand applied by trained artisans.-Designed to weather naturally and last a lifetime.-Comes with basket.-Made in the USA.-Style (Old): Vintage.-Product Type: Statue.-Theme: Animal.-Seasonal Theme: No -Se...
Buy Now
$234.99
Related Products
Custom framed museum quality digital reproduction//Published on archival premium matte paper//Frame Ornate gold fleur//Matting 3" Warm white on cinder//Acrylic glazing//Made in the USA//Product Type Print//Frame Material Wood//Artist Paul Gauguin//Fram...
View Item
Dog noses are highly sensitive and can become very painful when the tissue becomes dry, chapped or cracked. No pet owner wants to see his or her beloved pet in pain or discomfort - and neither do we. Natural Dog Company has developed Snout Soother, a perfect blend of organic ingredients to nourish, heal and moisturize - naturally. Our soothing balm can be applied to a dog's nose to treat painful cracking and dryness as well as a preventative with its natural sunscreen elements. ------------ Paw Soother is an organic, vegan, all-natural butter and herbal-based blend specially formulated to heal rough, chapped, dry dog paw pads. Paws can become dry and damaged from many elements such as ice, salt, sand, rough or hot surfaces. Paw Soother helps to deeply moisturize and nourish the skin to heal paws. Perfectly safe and edible, so do not worry if your dog attempts to lick it off. You will be able to see noticeable results even after just one use! This product comes strongly recommended, your dog with thank you. ------------ PawTector is an all-natural wax based blend made to protect soft and delicate paw pads against heat, cold, sand, salt, and snow. PawTector acts as a nourishing barrier against the harsh elements paws come in contact with. Great for using before outdoor activities like hikes, walks, the beach, going outside in hot or cold weather, after fresh snow or salt. We get to wear shoes, but dogs have absolutely no protection when walking on things like hot pavement - until now. ------------ Dogs can't always help themselves when they're in pain, but we do what we can to keep them happy and healthy - because we love themTM.
View Item