Home' n Go Generation II Deluxe Portable Soft Extra Small Pet Crate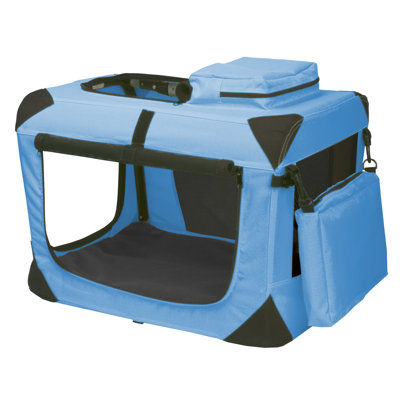 Includes adjustable leash, toy and treat bag//Made with tough, water resistant materials//Steel frame safely houses even excited pets//Top, front and side entry doors for easy access//Folds compactly for storage//Removable, waterproof inner tray cleans...
Buy Now
$115.99
Related Products
Generac's iQ2000 is the ideal generator for powering your desired loads in a variety of outdoor environments, including parks, campsites, backyard parties and tailgating events. Third-party testing has proven the iQ2000 to be quieter than its competitors*, which allows users to provide power to their desired loads without disturbing those around them. The generator can be connected to a variety of sensitive appliances, including electronics, as its digital inverter module converts the raw power it produces from DC to AC power. Best of all, the iQ2000 is easy to use and boasts innovative features not found on any other inverter generator in the industry. While the unit's Start, Run and Stop functions can be manually set via the iQ2000's PowerDial, users can toggle between Turbo, Standard and Economy modes through the use of a simple switch to reduce noise and fuel consumption rates based on load requirements. When items requiring higher power outputs are connected to the generator, Turbo mode should be utilized. For loads requiring minimal power output, switching to Economy mode is recommended; Standard mode should be utilized for all intermediate load requirements. To accommodate larger load requirements, the iQ2000 is also parallel capable. Users can nearly double the power output available to their desired loads by connecting two generators through the use of an optional Parallel Kit. In regards to product feedback, the unit's dashboard bestows LED displays that can be utilized to continuously monitor the generator's operating status. While the unit is running, users can verify how much time they have left before refueling is required by referring to the run-time remaining display, and the PowerBar constantly specifies wattage produced by the generator at all times. Other innovative status indicators include low fuel, low oil, overload and overheating alerts. *Based on independent lab tests using ISO 9614 to measure sound power levels vs. Honda EU2000i.
View Item
Great for running the RV while out on the road, or for keeping essential appliances going during a power outage, the Sportsman Series 4000 Watt Dual Fuel Generator has the power and flexibility to handle the task. This generator runs on either unleaded gasoline or propane gas, so you can use whichever fuel is more easily available or affordable at the moment. With the Sportsman Series Dual Fuel Generator, you get the long lasting, clean burning advantage of propane gas, plus the familiar and easy to find benefits of unleaded gasoline. With 4000 peak watts and 3500 rated watts the Sportsman Series Dual Fuel Generator is a powerful generator than can handle the needs of most contractors, homeowners and recreational activities. Equipped with four 120-volt outlets, a single 120V RV outlet, and a 12 volt DC outlet for battery charging, this generator can handle almost everything you need for camping or tailgating. With a 50 percent load, the Sportsman Series 4000 Watt Dual Fuel Generator can run for 10 hours on a full tank of gasoline (3.6 gallons) and 12 hours with a full 20 lbs. LP cylinder (the common gas grill type, not included). A 5-foot propane fuel hose with a regulator is included for your added convenience. The 7 HP engine is surprisingly quiet; it runs at less than 69 Db. The Sportsman Series 4000 Watt Dual Fuel Generator is ideal for anyone who needs affordable, flexible, and portable power. Unfortunately, this model cannot be converted to operate with natural gas.
View Item