Energy Efficient Indoor 2-Light Flush Mount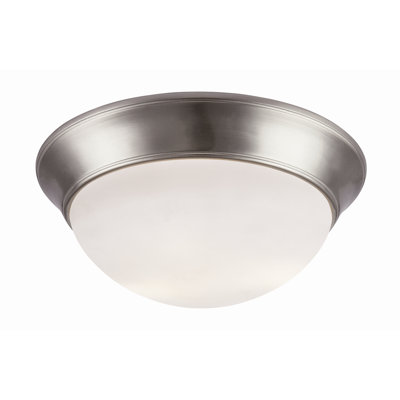 Flush mount//Classic style//Round shape//Easy installation//UL listed as suitable for damp locations//Brushed nickel finish//Energy Efficient Indoor collection//Shade Included//Shade Colour White//Shade Material Glass//Finish Brushed nickel//Bulb Type ...
Buy Now
$59.99
Related Products
Ultimate versatility is what the Newhouse LED Flex Clamp Lamp is all about. With a strong clamp holding it in place, the Flex Clamp Lamp provides bright, usable light right where you need it. Top uses include clamping onto dorm room furniture, or as the perfect bedside reading light. We know you will enjoy it's flexibility and come up with some great uses. As with all of our lamps, it uses the latest in LED technology and delivers quality light while being extremely energy efficient. Make the switch to LED today. Make mother nature proud. Newhouse Lighting NewBright Technology provides full spectrum lights & no ghosting, thus offering a more natural lighting experience. The bright warm 3000K LED light bulb paired with the Smooth Illuminating Diffuser will keep eye strain at bay so you can keep reading, working, or studying with minimal pain or exhaustion. Easy to reach power switch located along the lamp cord. Get light where you need it, exactly when you need it, without any surprises or wandering in the dark. This versatile desk lamp comes equipped with a multi-purposed gripping base. The suction cup grip creates additional support for smoother surfaces while you pull and bend the neck to cover any angle you may need. The clear choice for a student, a professional on the go, a mechanic, or anyone who desires a portable energy efficient light that will never burn out. Newhouse Lighting is focused on manufacturing and selling sensible and stylish energy-efficient LED lighting products. Newhouse Lighting provides quality lighting while using a fraction of the energy most of today's lighting products consume. With over 100+ years of combined lighting experience, the team at Newhouse Lighting tirelessly works around the clock to come up with new and function-rich LED lighting products. We believe in doing our part to a more sustainable future, therefore we offer free recycling to any of our NewHouse Lighting lamp products. Please contact us for more information.
View Item
USB Led Light Bulb,You can take it or just hang it easily. This Energy Saving camping lighting are small to medium sized and made of tough plastic, Lightweight, sturdy and durable, Water Resistant. Led Light bulb's Features: The solar LED lamp use 1W white LED and built-in with 600mah rechaegeable battery which could be recharge by solar or other household USB charger, The solar pannel comes wwith a stand backside and 2 suckers. The suckers can help stick the solar panel on the window, while absorbing the sunlight, it charging the lamp with an USB cable 2m Length. The bulb lamp also apport AC 110/220v electricity, it is applicative with the xcommon lamp-socket that contains a sprial port. Push the botton to "AC" side, the lamp would powered by AC then. the battery could also be charged by the AC electronica while the lamp is turned off. The lamp can keep lighting for 3 hours with battery. Power of the solar pannel is 1W,5V,with the USB cable, this solar pannel can also charge other electrical Products like moblie phone ect. This Solar Led Light Bulds relies on solar energy, which is clean, endless and environment-friendly. Solar Led Light Bulbs String Lights,Ideal for home Lighting, Camping, Cooking, Working, Reading, Emergency and Blackouts,etc. Bulb string lights,In daytime, when there is sunshine, the solar panel can convert the solar energy to electric energy and store it in the battery. Solar Led Light Bulbs Power source: Solar panel, home electricity charging. Specification: Size:8.5*8.5*13cm Max height: 18.8cm Material: ABS+ Stainless steel Input voltage: 110-240V Power:1W/ 800MA/ 3*AA battery Color: Green Shipping weight: 0.358kg Packaging: The Hiking Fishing Camping Light and accessories will be packed by colorful box
View Item