.3 Cu. Ft. Kitchen Compost Collector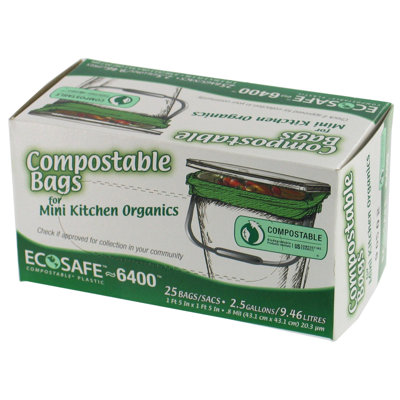 25 Per box//Plastic bag//Ideal for kitchen organics//Meets ASTM #D6400 standard specifications for compostable products//Intended to be composted in a municipal or commercial facility operated in accordance with best composting management practises//Ca...
Buy Now
$31.99
Related Products
Endurance® collection//Size Small//Includes 2 charcoal filters in the vented lid to ensure an odour free environment//Dishwasher safe//Remove the filters before washing//Material Details Stainless Steel//Product Type Kitchen Composter//Colour Stainless...
View Item
Keep your bin clean and your kitchen smelling fresh with Glad 100% Compostable OdorShield Tall Kitchen Trash Bags. The OdorShield technology continuously neutralizes food odors leaving your kitchen with a Fresh Clean Scent. Glad kitchen bags compost completely, quickly and safely in municipal composting facilities just like paper, yard trimmings and food scraps do. These kitchen garbage bags meet the requirements of municipal compost programs and ASTM D6400 and are certified compostable by the industry standards authority, BPI. Contribute to a better environment with Glad compostable trash bags. If you are looking for an odor eliminator, Glad has you covered. This 13 gallon compostable trash bag is perfect for use in the kitchen or throughout the house and is great for your seasonal cleaning needs like Spring Cleaning and Back to School. Get a handle on trash with Glad.
View Item