.3 Cu. Ft. Kitchen Compost Collector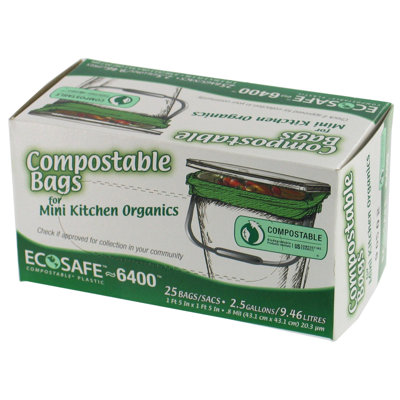 25 Per box//Plastic bag//Ideal for kitchen organics//Meets ASTM #D6400 standard specifications for compostable products//Intended to be composted in a municipal or commercial facility operated in accordance with best composting management practises//Ca...
Buy Now
$29.99
Related Products
Did you know that the average American throws away 20 pounds of food every month? What a waste! Composting is a simple way to put food scraps to good use and reduce the impact that food waste has on the planet. There's just one problem with it: Collecting the scraps can be a little gross, but not if you have the Tenby Living Food Waste Compost Bin! With the Tenby Living Food Waste Compost Bin, you can gather food scraps for DIY composting conveniently and neatly. This attractive 1.2-gallon home compost bin was made especially to be an indoor compost bin for kitchens, so it's perfectly sized at 8.3 inches by 7.5 inches by 11.2 inches. You can use it as a counter compost bin to collect scraps and then add the food waste to an outdoor compost pile or put it out by the curb for a compost pick-up service. The Tenby Living Food Waste Compost Bin is truly the best choice of kitchen compost bin that you'll find on Amazon. Our home compost bin beats the competition because it's: MORE ATTRACTIVE. A bright, cheerful color and a leaf atop the lid makes our indoor compost bin as pretty as it is practical. TIGHTER SEALING. No one will know you're composting in your kitchen with this bin because it locks in odors and keeps pests away. MORE CONVENIENT. You don't have to manually strain compost when you use the Tenby counter compost bin. Just push down on the disc to drain liquid and dump it out! EASIER TO CARRY. The handle on our indoor compost bin is sturdy and fits comfortably in your hand. MORE DURABLE. We make our home compost bin out of heavy-duty polypropylene plastic that can hold up well to wear and tear. SIMPLER TO CLEAN. The compost bin can be disassembled for quick cleaning when it's empty. Choose the best kitchen compost bin on Amazon. Order the Tenby Living Food Waste Compost Bin now.
View Item
Measures: Each bag is 6 liters, .65 mil, measures 14" x 16" / 35cm x 40.5cm Box: 3.75" x 2.75" x 2.75" / 9.5cm x 7cm x 7cm Box has perforation for dispensing 50 bags. Meets compost standards by complying with the ASTM 6400 & EN13432 standards. BPI Certified and OK Compost Certified. Meets California Law SB1749. Compost along with the food scraps, peelings, egg shells, coffee grounds and other waste. Liners help to maintain the cleanliness for your compost pail. Perfect for taking with you when you walk your pets, too. Fits most keepers and pails. As printed on the bag, these bags are compostable in industrial facilities. Check locally, as these do not exist in many communities. Not Suitable for backyard composting. Norpro was founded in 1973 with a vision to design, manufacture, and supply the highest caliber kitchenware. Norpro's offering of innovative, high quality product for cooking, preparing and serving food are produced with superior materials and craftsmanship.
View Item