0.13 cu. ft. Kitchen/Countertop Composter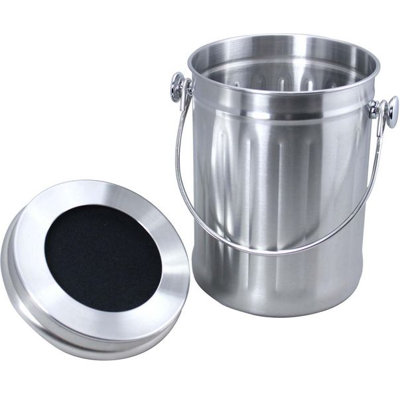 Material 304 Stainless steel//Beautiful for your kitchen counter and perfect for kitchen scraps//Easy and efficient way to recycle kitchen food scraps//Odour removal//Easy to carry//Filter included//Material Details 304 Stainless steel//Product Type Ki...
Buy Now
$74.25
Related Products
With stylish good looks and the same range of colored lids, the Urban Composter City has a 6 liter capacity. The Urban Composter City uses anaerobic composting to ferment your kitchen scraps right in the bucket, with no foul odors and no flies. Simply...
View Item
The FoodCycler: Home is a state-of-the-art odorless, environmentally friendly, short-cycle, in-home food recycling unit available. In as little as 4 hours, kitchen scraps can be reduced by up to 90% into a highly mature, nutrient-rich soil amendment - ideal for gardening applications! The FoodCycler:Home is compact in its design, and the entire process is completely odorless. There are no enzymes, pellets, or additives required. Simply load the bucket and go! The removable, dishwasher-safe basket allows the FoodCycler:Home to operate anywhere in the home, saving you valuable counter space. Transform your food waste into a nutrient-rich soil amendment with the simple push of a button. Never worry about when to change your filters again! The FC-30 Platinum has a built in filter monitoring system that will let you know when it is time to change your filters. Features: - Short Cycle - Dishwasher safe - Easy to use and maintain - Odorless - Energy efficient - Environmentally friendly
View Item