0.16 cu. ft. Kitchen Composter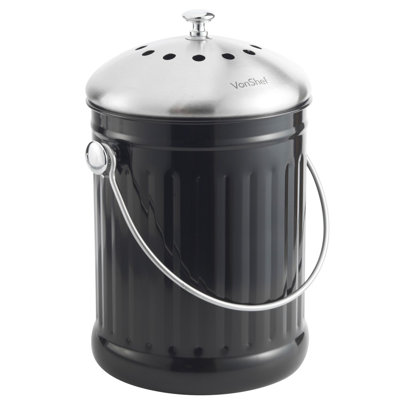 VonShef stainless steel compost bin caddy is sleek and stylish and is specifically made to store kitchen waste such as vegetable peelings and can be stored perfectly on kitchen counter tops or under the kitchen sink. Designed in a sleek black body and...
Buy Now
$29.99
Related Products
So you've made the jump. Awesome! Now, keep your compost collector in tip-top shape with ASTM 6400 certified bags that you can carry to your bin or local facility to make waste a little less, well, wasteful.
View Item
Upgrade to a YukChuk. KITCHEN FOOD WASTE COLLECTION HAS NEVER BEEN SO EASY. *Don't build them like they used to? -- "WE JUST DID". Not just another me-too Plastic Bucket! Specifically engineered and designed for homemaker-easy kitchen food waste collection. High Density Polypropylene. *Using a Food Waste collection Container in your kitchen has never been this easy. YukChuk raises the bar for Kitchen Food Waste Collection in our Collection Pail with Patent Pending design. * Our 'LIVING HINGE' proprietary technology is engineered into the mold design and exacting production process controls. Not just a thin plastic strip. *Twin Lid Locks to seal. -- NO Fruit Flies, NO Odors. -- Simple one-handed operation, for quick and homemaker friendly use. - The only Living Hinge food waste container available -- THE most Sanitary! -- Dishwasher Safe. -- Mounts behind kitchen cabinet door or free standing. -- Mounting bracket included at no extra cost. -- Small profile, large 1 ½ gallon capacity. -- No $$ Charcoal Filter to replace, NO need, NO ongoing replacement cost.
View Item