0.16 cu. ft. Kitchen Composter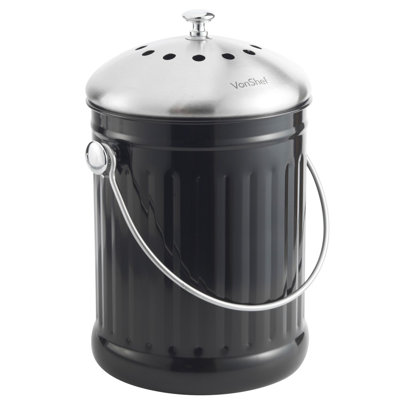 VonShef stainless steel compost bin caddy is sleek and stylish and is specifically made to store kitchen waste such as vegetable peelings and can be stored perfectly on kitchen counter tops or under the kitchen sink. Designed in a sleek black body and...
Buy Now
$29.99
Related Products
Make compost 10-times faster with Green Cycler. RE-DESIGNED AND GUARANTEED FOR DURABILITY! This exciting new appliance shreds kitchen scraps to the ideal size for composting or worm bin, and stores biodegradables without mess, odor or pests. Shredded food scraps will super-charge your compost pile. Get ready for amazing gardening results. Your own healthy, organic compost is just days away. Keep your kitchen neat, reduce smells and mess. Micro-ventilation helps eliminate odor-producing bacteria. All parts designed for quick (dishwasher safe) clean up. All parts are 100% guaranteed! See manufacturer site for details.
View Item
Product Description 3 step process makes composting kitchen waste a snap Reduces kitchen waste up to 90% of it's original volume Composts to a viable soil amendment in less than 3 hours Odorless and environmentally conscious No venting, draining or additives required Product Specifications Color: White The Food Cycler is a state-of-the-art indoor food composter. In as little as 3 hours, kitchen scraps can be reduced by 90% into a highly matured, nutrient-rich soil amendment ideal for gardening applications. The Food Cycler is compact in it's design and is entirely odorless - guaranteed! There are no enzymes, pellets or additives required. Simply load the food scraps and go! The removable, dishwasher-safe basket allows the Food cycler to operate anywhere, saving valuable counter space. You can see the Product Demo Video Clip at : https://www.youtube.com/watch?v=YW3uZq9KAok
View Item