1.2 Gal. Kitchen Composter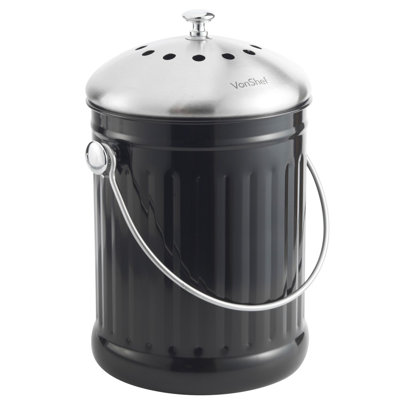 VonShef stainless steel compost bin caddy is sleek and stylish and is specifically made to store kitchen waste such as vegetable peelings and can be stored perfectly on kitchen counter tops or under the kitchen sink. Designed in a sleek black body and...
Buy Now
$33.99
Related Products
This 100% recycled plastic compost container fits neatly in a cabinet under a sink, so that it doesn't take up any precious counter space. Its hinged lid snaps tight and comes with a replaceable carbon filter. (See item K781CF for replacements) Dishwasher safe or easily hand-washable. Holds 2.4 gallons.
View Item
The Natural Home .2 Cu. Ft. Kitchen Compost Collector is a wonderful indoor apparatus to create nutrient-rich compost from kitchen waste. It is constructed from stainless steel, which makes it robust for daily use. This compost collector has a lid on ...
View Item