1 Gal. Kitchen Composter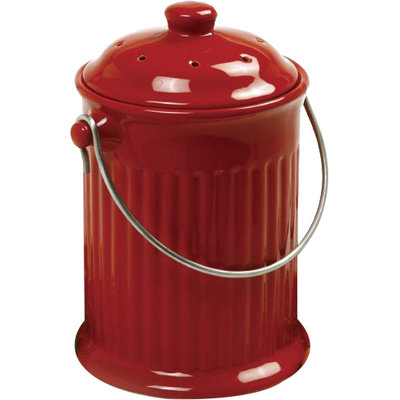 Includes filter in lid to keep compost odourless//Easy organic recycling//Store peelings, egg shells, coffee grounds, greens, clippings and vegetable scraps for transfer to your garden composter//Sturdy stainless steel handle//Capacity 1 Gallon//Materi...
Buy Now
$89.99
Related Products
Upgrade to a YukChuk. KITCHEN FOOD WASTE COLLECTION HAS NEVER BEEN SO EASY. *Don't build them like they used to? -- "WE JUST DID". Not just another me-too Plastic Bucket! Specifically engineered and designed for homemaker-easy kitchen food waste collection. High Density Polypropylene. *Using a Food Waste collection Container in your kitchen has never been this easy. YukChuk raises the bar for Kitchen Food Waste Collection in our Collection Pail with Patent Pending design. * Our 'LIVING HINGE' proprietary technology is engineered into the mold design and exacting production process controls. Not just a thin plastic strip. *Twin Lid Locks to seal. -- NO Fruit Flies, NO Odors. -- Simple one-handed operation, for quick and homemaker friendly use. - The only Living Hinge food waste container available -- THE most Sanitary! -- Dishwasher Safe on HOT cycles. -- Mounts behind kitchen cabinet door or free standing. -- Mounting bracket included at no extra cost. -- Small profile, large 1 ½ gallon capacity. -- No $$ Charcoal Filter to replace, NO need, NO ongoing replacement costAt YukChuk LLC we have never, and never will, come to market with a 'me too' product. Designing outside the box is our way of life. In fact we don't know what a box is!
View Item
Good Grip collection//Convenient size and design for everyday counter top use//Lid flips up for easy filling and flips down to lock in odours//Smooth interior walls prevent foods and liquids from building up//Contoured bottom and removable lid makes em...
View Item