1 Gal. Kitchen Composter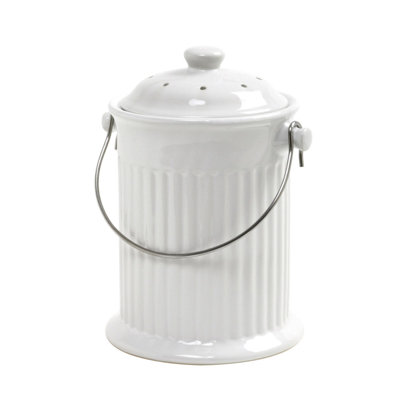 Includes filter in lid to keep compost odourless//Easy organic recycling//Store peelings, egg shells, coffee grounds, greens, clippings and vegetable scraps for transfer to your garden composter//Sturdy stainless steel handle//Capacity 1 Gallon//Materi...
Buy Now
$89.99
Related Products
The Exaco .1 Cu. Ft. Compost Bucket is the best composting apparatus to utilize the kitchen waste. The white finish of this compost bucket matches any kitchen decor. This compost bucket is made from plastic and metal and is strong enough to serve you ...
View Item
Effective, Easy To Use & Professional- The Compost Bin Every Household Should Own! Do you buy food and after you consume the most of it start thinking what you should do with the waste? Wouldn't it be great if you could get rid of all the leftovers and create a fertilizer for your lovely garden? If you are a gardener, a mum or just a person that loves helping the environment, then you should definitely try our Priority Chef compost bin. Want To Know Why This Is The Best Compost Pail Money Can Buy? Check Out: - Our home composter features soft silicone handles so that you can grab the bin without it slipping off your hands and making a mess. - Thanks to the double filtration system, our kitchen compost pail will function properly lacking the odors that usually come with the waste! - Priority Chef food composter will fit on any worktop and due to the small size of it, you can easily hide it in case you need to. - The brushed satin finish of our indoor composter will not only look stylish, but will also motivate your friend to recycle! - The main benefit of a food waste processor is the eco-friendly nature of it, not just for the environment but for your household too! Clean your house from food waste by creating something nourishing for your garden. Don't ever again, let the nasty smell in the kitchen deprive you from cooking. Still Thinking About It? Click Add To Cart Now, Before We Are Sold Out Again!
View Item