1 Gal. Kitchen Composter Color: Ceramic White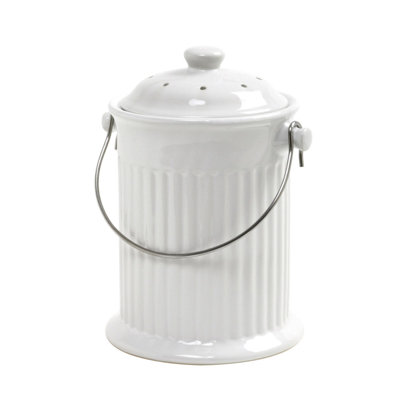 Features: -Includes filter in lid to keep compost odorless.-Easy organic recycling.-Store peelings, egg shells, coffee grounds, greens, clippings and vegetable scraps for transfer to your garden composter.-Sturdy stainless steel handle.-Capacity: 1 Gal...
Buy Now
$47.99
Related Products
Designer product for kitchen use//Easy and green way of disposing of food waste//Within days food scraps will become liquid organic fertilizer//Composting food scraps = less garbage, less landfill and less pollution//4 Gal. capacity reduces volume of o...
View Item
Made of steel//Ecological way to convert kitchen scraps into compost for the garden//Dump collected organic material from this pail into a composter to make fertilizer for plants and vegetables//Retro trash can design//Two replaceable carbon filters to...
View Item