5 Gal. Kitchen Composter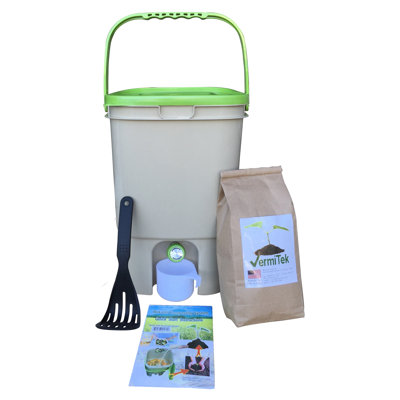 Bokashi composting is a ferment process. It can compost meats, fishes, bonds, dairy products, veggies, and fruits. It takes only 2 to 4 weeks for the composting. EM ceramic powder is infused into the bucket for faster fermentation. With Bokashi Bran a...
Buy Now
$57.99
Related Products
Includes a carbon filter reducing significantly any organic smells. Made from HDPE (High Density Polythylene). Replaceable carbon filters. Most practical way to collect all your organic waste. 2-Year warranty against manufacturers defect. Capacity: 9 L or 2.4 gal.. 8.5 in. L x 9 in. W x 11 in. H (1.4 lbs.).
View Item
This is an essential for all who compost their kitchen waste. Sturdy, yet lightweight Midi Compost Caddy is made of recycled plastic. Has a tight fitting lid with a charcoal filter (lasts 4 months) to neutralize odors. 2.5 gallon capacity to save you trips to the composter! Made in England, Tierra Garden is an importer, designer and manufacturer of distinctive garden products that has developed a reputation for quality products and a broad selection of unique garden hard goods.
View Item