5 Gal. Kitchen Composter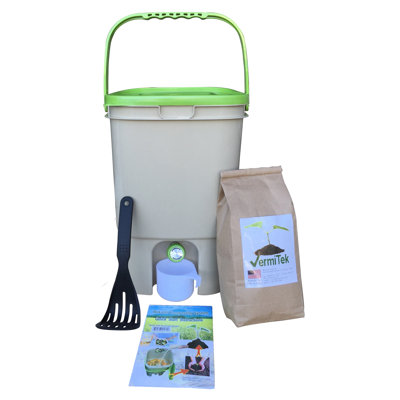 Bokashi composting is a ferment process. It can compost meats, fishes, bonds, dairy products, veggies, and fruits. It takes only 2 to 4 weeks for the composting. EM ceramic powder is infused into the bucket for faster fermentation. With Bokashi Bran a...
Buy Now
$64.99
Related Products
The VonShef Stainless Steel Compost Bin is sleek and stylish and is specifically made to store kitchen waste such as vegetable peelings and can be stored perfectly on kitchen counter tops or under the kitchen sink. Designed in a sleek black body and polished stainless steel lid, this compost bin will make a great addition to contemporary and modern kitchens. The lid has an activated carbon filter which will absorb and contain any unpleasant odors, making this the perfect alternative to using an ordinary bin VonShef Compost Bin replacement filters are available, search Amazon for "Vonshef Compost Bin Filters". Boasting a large 1.2 Gallon capacity this compost bin can store more than fruit and vegetable peelings, it is also ideal for tea leaves, flowers or shredded paper/newspaper. Product dimensions: 7.9" x 10.6" x 7.7" (LxWxD)
View Item
Lattice design adds style and texture//Durable and attractive for kitchen countertop use//Large 1 gallon capacity compost crock//Product Type Kitchen Composter//Material Ceramic//Wood Construction Type No Wood//Latching Lid//Base Included//Year Round U...
View Item