5 Gal. Kitchen Composter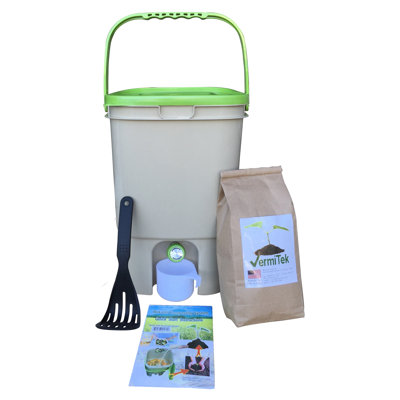 Bokashi composting is a ferment process. It can compost meats, fishes, bonds, dairy products, veggies, and fruits. It takes only 2 to 4 weeks for the composting. EM ceramic powder is infused into the bucket for faster fermentation. With Bokashi Bran a...
Buy Now
$65.99
Related Products
A slower and gentler decomposition process//Allows aerobic decomposition by letting air flow freely//Easy to clean and empty for less mess//Keeps organic kitchen waste drier and reducing bad odours//Opens easily with a push of a button//Patented design...
View Item
Turn food scraps into valuable nutrients for your plants with Plow & Hearth leakproof, odor-free copper-plated compost container. It makes an attractive addition to your counter and is leak- and odor-free. Copper-plated compost container comes with a ...
View Item