ECO 2.7 Gal. Kitchen Composter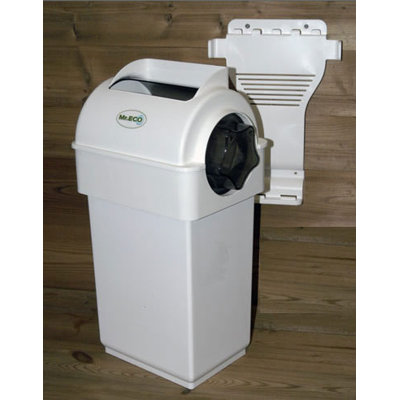 Includes wall mount//Hide all previously collected waste//Eliminates presence of insects//Dishwasher safe//Made of recycled plastic//Sturdy wall hanger//Either hang from cabinet door under sink or place on top of counter//With tumbler//Unit detaches ea...
Buy Now
$89.49
Related Products
Oggi's countertop compost pail, is made from bamboo fiber. Conveniently store food scraps in this odor-eliminating container before transferring them to an outside composter. The unit works great for egg shells, peelings, coffee grounds, and more. One charcoal filter included to absorb odors; replacement filters are available. Capacity is 3.8-liter. Convenient carry handle.
View Item
Turn food scraps into your own organic fertilizer with our Sorbus® Stainless Steel 1 Gallon Compost Bin! This lovely, odorless, 1 gallon compost bin fits several days' worth of food scraps and can later be used on crops. No need to worry about bacteria growth or chemicals seeping out because the stainless steel design protects against it all. The compost bin also includes a replaceable charcoal liner that acts as a natural filter from odors. It is perfectly designed to compliment any kitchen and easily fits most countertops. Unlike plastic containers this stainless steel bin can be easily cleaned and is guaranteed not to rust, scratch, or chip. The bin holds 1 gallon of compost, includes a carrying handle, and measures approximately 7.16" diameter and 11" height.
View Item