ECO 2.7 Gal. Kitchen Composter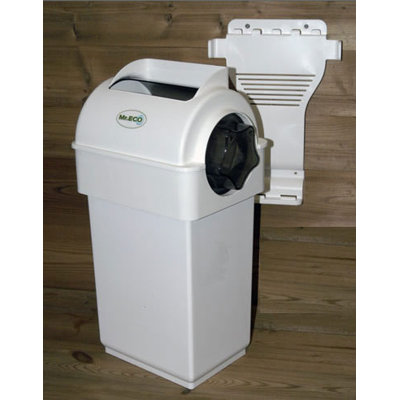 Includes wall mount//Hide all previously collected waste//Eliminates presence of insects//Dishwasher safe//Made of recycled plastic//Sturdy wall hanger//Either hang from cabinet door under sink or place on top of counter//With tumbler//Unit detaches ea...
Buy Now
$87.99
Related Products
Did you know that the average American throws away 20 pounds of food every month? What a waste! Composting is a simple way to put food scraps to good use and reduce the impact that food waste has on the planet. There's just one problem with it: Collecting the scraps can be a little gross, but not if you have the Tenby Living Food Waste Compost Bin! With the Tenby Living Food Waste Compost Bin, you can gather food scraps for DIY composting conveniently and neatly. This attractive 1.2-gallon home compost bin was made especially to be an indoor compost bin for kitchens, so it's perfectly sized at 8.3 inches by 7.5 inches by 11.2 inches. You can use it as a counter compost bin to collect scraps and then add the food waste to an outdoor compost pile or put it out by the curb for a compost pick-up service. The Tenby Living Food Waste Compost Bin is truly the best choice of kitchen compost bin that you'll find on Amazon. Our home compost bin beats the competition because it's: MORE ATTRACTIVE. A bright, cheerful color and a leaf atop the lid makes our indoor compost bin as pretty as it is practical. TIGHTER SEALING. No one will know you're composting in your kitchen with this bin because it locks in odors and keeps pests away. MORE CONVENIENT. You don't have to manually strain compost when you use the Tenby counter compost bin. Just push down on the disc to drain liquid and dump it out! EASIER TO CARRY. The handle on our indoor compost bin is sturdy and fits comfortably in your hand. MORE DURABLE. We make our home compost bin out of heavy-duty polypropylene plastic that can hold up well to wear and tear. SIMPLER TO CLEAN. The compost bin can be disassembled for quick cleaning when it's empty. Choose the best kitchen compost bin on Amazon. Order the Tenby Living Food Waste Compost Bin now.
View Item
The "Kitchen Compost Caddy" is a green food waste storage system now in its second generation for 2016. We have happy customers now using our product in well over 45,000 homes and businesses throughout the world since our introduction in 2012. Our food waste collection system provides households and businesses participating in residential composting programs, and gardeners a way to store their composting bin onto the inside of a cabinet door at a convenient height beneath the kitchen counter. Once installed, you are able to lock the lid in the open position with a rare earth magnet mounted to the exterior of vented lid. With a flip of the hand, the neodymium magnet is released from the upper metal support of our bracket and gravity drops the lid closed. The reinforced and rugged 100% virgin plastic compost bucket slides onto our Kitchen Compost Caddy rack and is fully supported in three places: Beneath the bucket by our "V" shaped bottom support. (Supports the weight within the bucket) and from the back of the bucket, (2 support tabs affix the bucket to the main horizontal support of our rack). The compost bucket can easily be removed from the rack by sliding it upwards and off the rack for ease of cleaning or emptying. To replace the bucket, simply slide the bucket back over the (2) mounting tabs located on the upper metal bracket support while the bottom of the bucket drops effortlessly into the "V" shaped bottom support located at the bottom of our rack system. Strengthened / stronger bucket design for 2016. Improvements include: Positive locking lid closure, Strengthened handle, Bottom grip, Feet added to bucket base: Keeps bucket bottom clean and dry. Capacity: 2 gallon. 2 Bag Hooks, Double Seal on the Vented Lid: The rugged patented design is built to last. Mount manufactured from 16 gauge steel / powder coated with Silver/Grey hammer tone finish/made in USA. Mounting screws and 2 carbon filters included. Filters last 6 months and reduce food odor.
View Item