ECO 2.7 Gal. Kitchen Composter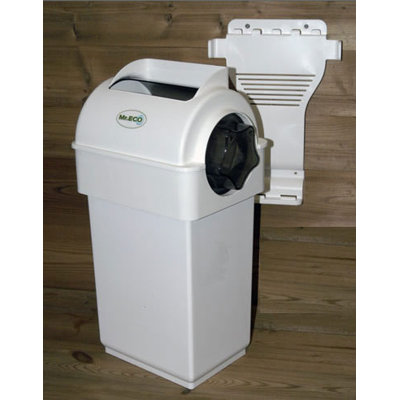 Includes wall mount//Hide all previously collected waste//Eliminates presence of insects//Dishwasher safe//Made of recycled plastic//Sturdy wall hanger//Either hang from cabinet door under sink or place on top of counter//With tumbler//Unit detaches ea...
Buy Now
$89.49
Related Products
We believe that going green is important! What you should know is that convenience and style will not need to be compromised when using Kitchen Maestro stylish compost bins for saving food scraps to compost. The Kitchen Maestro Compost Bins are constructed of durable and long-lasting stainless steel. The 1.2 gallon bin is small enough to fit neatly onto kitchen counter tops, but large enough to contain several days worth of peels, shells and kitchen waste. Once filled up, the built-in handle allows for easy lifting and emptying. The Kitchen Maestro Compost Bins are elegantly designed in an array of urban colors. When using it in the kitchen, the airtight lid and set of two odor absorbing carbon filters ensure that no odor escapes from the bin. For your convenience, a free set of replacement filters is included in the box. BONUS: 50 Free Compost Bag Roll Included as part of our love for the green team!
View Item
This stainless steel counter top waste bin will add touch of style to your kitchen. Can easily be stored on the countertop or under the sink. Features: -Composter Capacity: 0.03.-Product Type: Kitchen/Countertop Composter.-Color: Silver.-Material: Met...
View Item