ECO 2.7 Gal. Kitchen Composter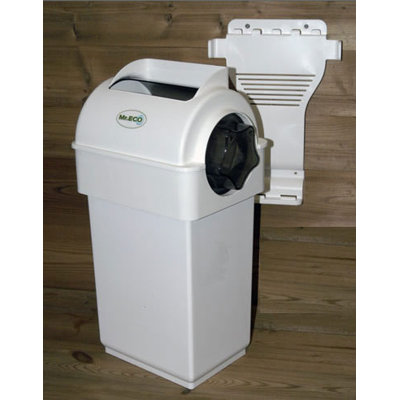 Generally speaking, composting isn't such an enjoyable activity. It often comes with putrid smells, an awful visual and can cause undesirable insects to appear. Mr.ECO smartly resolves the problem by eliminating the inconveniences of recuperating comp...
Buy Now
$55.99
Related Products
Material Stainless steel//Capacity 1.2 Gallon//Organic recycling made stylish and easy//Stylish environmental solution for recycling your kitchen waste//Features an airtight seal lid plus free replacement odour reducing filter to help prevent nasty sme...
View Item
The perfect countertop compost bin.Do you compost or are you thinking of starting? The KC Bins 12-Cup Countertop Compost Bin w/ Filter is exactly what you need to neatly collect your kitchen scraps and easily carry them to your outdoor compost pile.- Stylish bin is made from powder-coated steel and matches any kitchen decor- Filter in lid blocks odors; holes allow air circulation to prevent food scraps from rotting- Sturdy and convenient handle allows you to carry the bin outdoors to empty the contents into your compost pile- Easy to clean, dishwasher safe (remove filter first)Our 12-cup (0.75 gallon) size is ideal for collecting fruit peels, vegetable scraps, eggshells, coffee grounds and other composting material that comes out of your kitchen! With the lid on, the bin measures 9 inches (23 cm) tall. Standard filter replacements will fit our bin; the filter is 6.5 inches in diameter.Satisfaction Guaranteed.If for any reason this product does not meet your expectation, we will send you a new one for free at our cost. No questions asked. Buy now to take advantage of the limited-time special price!
View Item