Kitchen/Countertop Composter Color: Ceramic Red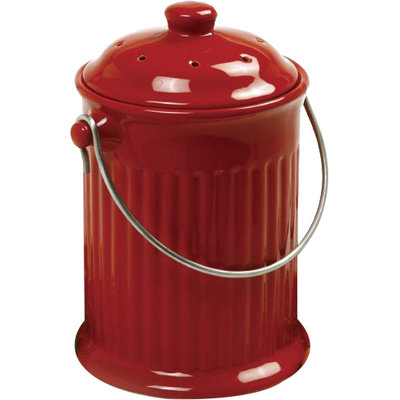 Features: -Includes filter in lid to keep compost odorless.-Easy organic recycling.-Store peelings, egg shells, coffee grounds, greens, clippings and vegetable scraps for transfer to your garden composter.-Sturdy stainless steel handle.-Capacity: 1 Gal...
Buy Now
$31.99
Related Products
So you've made the jump. Awesome! Now, keep your compost collector in tip-top shape with ASTM 6400 certified bags that you can carry to your bin or local facility to make waste a little less, well, wasteful.
View Item
The VonShef Stainless Steel Compost Bin is sleek and stylish and is specifically made to store kitchen waste such as vegetable peelings and can be stored perfectly on kitchen counter tops or under the kitchen sink. Designed in a sleek black body and polished stainless steel lid, this compost bin will make a great addition to contemporary and modern kitchens. The lid has an activated carbon filter which will absorb and contain any unpleasant odors, making this the perfect alternative to using an ordinary bin VonShef Compost Bin replacement filters are available, search Amazon for "Vonshef Compost Bin Filters". Boasting a large 1.2 Gallon capacity this compost bin can store more than fruit and vegetable peelings, it is also ideal for tea leaves, flowers or shredded paper/newspaper. Product dimensions: 7.9" x 10.6" x 7.7" (LxWxD)
View Item