Kitchen/Countertop Composter Color: Ceramic Red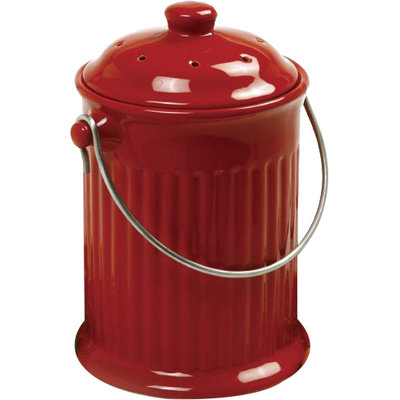 Features: -Includes filter in lid to keep compost odorless.-Easy organic recycling.-Store peelings, egg shells, coffee grounds, greens, clippings and vegetable scraps for transfer to your garden composter.-Sturdy stainless steel handle.-Capacity: 1 Gal...
Buy Now
$28.99
Related Products
Measures: Each bag is 6 liters, .65 mil, measures 14" x 16" / 35cm x 40.5cm Box: 3.75" x 2.75" x 2.75" / 9.5cm x 7cm x 7cm Box has perforation for dispensing 50 bags. Meets compost standards by complying with the ASTM 6400 & EN13432 standards. BPI Certified and OK Compost Certified. Meets California Law SB1749. Compost along with the food scraps, peelings, egg shells, coffee grounds and other waste. Liners help to maintain the cleanliness for your compost pail. Perfect for taking with you when you walk your pets, too. Fits most keepers and pails. As printed on the bag, these bags are compostable in industrial facilities. Check locally, as these do not exist in many communities. Not Suitable for backyard composting. Norpro was founded in 1973 with a vision to design, manufacture, and supply the highest caliber kitchenware. Norpro's offering of innovative, high quality product for cooking, preparing and serving food are produced with superior materials and craftsmanship.
View Item
This stainless steel counter top waste bin will add touch of style to your kitchen. Can easily be stored on the countertop or under the sink. Features: -Composter Capacity: 0.03.-Product Type: Kitchen/Countertop Composter.-Color: Silver.-Material: Met...
View Item