Kitchen/Countertop Composter Color: Ceramic Red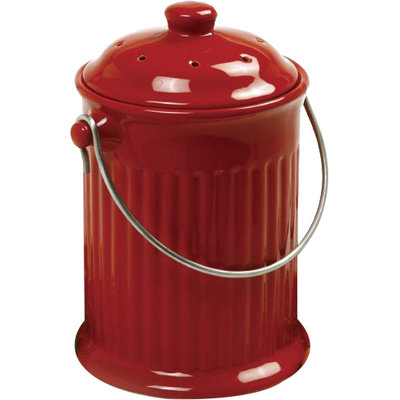 Features: -Includes filter in lid to keep compost odorless.-Easy organic recycling.-Store peelings, egg shells, coffee grounds, greens, clippings and vegetable scraps for transfer to your garden composter.-Sturdy stainless steel handle.-Capacity: 1 Gal...
Buy Now
$25.99
Related Products
The X-Chef Stainless Steel Compost Bin looks stylish and is specifically made to store kitchen waste such as vegetable peelings or leftovers, and can be stored perfectly on kitchen counter tops or under the kitchen sink. Designed in a sleek black body and polished stainless steel lid, this waste basket will make a fantastic addition to your modern kitchen. The lid has an activated carbon filter which will absorb and contain any unpleasant smells, making it a perfect alternative than using an ordinary trash can. Boasting a medium 1.2 Gallon capacity, this waste pail is cool to store fruit, vegetable peelings, tea leaves, shredded paper/newspaper and more. What are you waiting for? Take it home to wipe out those trashes now! Our Customer Satisfaction Money-Back Guarantee If you are not satisfied with the kitchen waste bin just return it within 30 days for a full refund. No questions asked, no hassle.
View Item
The SoilSaver Base features two halves that fasten together easily together using screws provided. The compost bin sits inside the raised lip on the outermost edge. This keeps burrowing animals out of your compost pile. 2 halves fasten easily together using screws provided. Compost bin sits inside the raised lip on outermost edge of base. Keeps burrowing animals out of compost pile.
View Item