Kitchen/Countertop Composter Color: Ceramic Red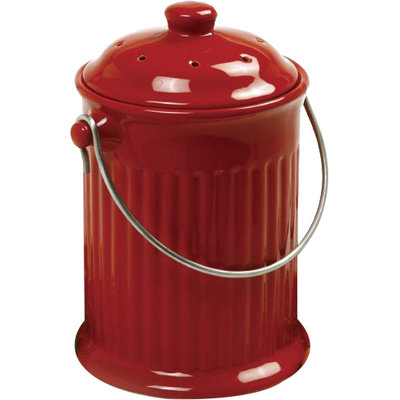 Features: -Includes filter in lid to keep compost odorless.-Easy organic recycling.-Store peelings, egg shells, coffee grounds, greens, clippings and vegetable scraps for transfer to your garden composter.-Sturdy stainless steel handle.-Capacity: 1 Gal...
Buy Now
$36.18
Related Products
Living green is easy with the LINKYO Stainless Steel Indoor Compost Bin! This is the ideal solution for collecting and keeping kitchen scraps - indoors and odor free - before you transfer them outside to recycle and compost into organic, nutrient-rich fertilizer that keeps your garden healthy and beautifully lush. Why would you settle for an ugly, smelly plastic recycling container? You'll find no reason to hide our attractive, classically designed pail, and the stainless steel construction will not harbor bacteria or leach unhealthy chemicals (which are risks with plastic and other materials). * ODOR-FREE - A thick activated charcoal filter absorbs and traps odors inside the bin leaving your kitchen fresh and clean. (4 filters are included, absolutely free) Furthermore, unlike plastic, the stainless steel canister walls do not retain smells - simply wash them away with soapy water. * COMPACT SIZE - Fits easily on a countertop, under the sink, in the pantry - wherever it is most convenient for you to quickly dump your table scraps. * CONVENIENT - Stores several days' worth of organic waste. The sturdy rotating handle makes it simple to transfer scraps to your outside compost pile. * DURABLE and SAFE - Constructed of High Grade 430 Stainless Steel that will not rust, stain, scratch, chip or retain odors. * CLEAN-UP IS A SNAP - Just remove the filter and pop the bin into the dishwasher.
View Item
Did you know that the average American throws away 20 pounds of food every month? What a waste! Composting is a simple way to put food scraps to good use and reduce the impact that food waste has on the planet. There's just one problem with it: Collecting the scraps can be a little gross, but not if you have the Tenby Food Waste Compost Bin! With the Tenby Food Waste Compost Bin, you can gather food scraps for DIY composting conveniently and neatly. This attractive 1.2-gallon home compost bin was made especially to be an indoor compost bin for kitchens, so it's perfectly sized at 8.3 inches by 7.5 inches by 11.2 inches. You can use it as a counter compost bin to collect scraps and then add the food waste to an outdoor compost pile or put it out by the curb for a compost pick-up service. The Tenby Food Waste Compost Bin is truly the best choice of kitchen compost bin that you'll find on Amazon. Our home compost bin beats the competition because it's: - MORE ATTRACTIVE. A bright, cheerful color and a leaf atop the lid makes our indoor compost bin as pretty as it is practical. - TIGHTER SEALING. No one will know you're composting in your kitchen with this bin because it locks in odors and keeps pests away. - MORE CONVENIENT. You don't have to manually strain compost when you use the Tenby counter compost bin. Just push down on the disc to drain liquid and dump it out! - EASIER TO CARRY. The handle on our indoor compost bin is sturdy and fits comfortably in your hand. - MORE DURABLE. We make our home compost bin out of heavy-duty polypropylene plastic that can hold up well to wear and tear. - SIMPLER TO CLEAN. The compost bin can be disassembled for quick cleaning when it's empty. Choose the best kitchen compost bin on Amazon. Order the Tenby Food Waste Compost Bin now.
View Item