Ceramic Meditating Buddha Figurine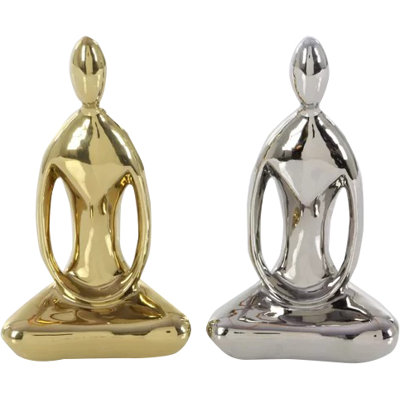 Set includes 2 Buddha figurines//Must have home decor//Silver and golden finish//Product Type Figurine//Style Eclectic//Theme Religious//Subject Buddha//Finish Silver Gold//Primary Material Ceramic//Age Group Adult//Country of Manufacture ...
Buy Now
$72.99
Related Products
This title is inspired by the erotic love poetry of medieval Andalusia and contains original translations of some of these poems by the author, Leon Whiteson. The book follows the seasons of erotic life, from youth to old age. The stories concern a successions of male protagonists and the tone varies from the ironic and comic to the ecstatic -- but it is always sexy. The Andalusians celebrated every aspect of love and sex in a setting of nature. This passion is translated into a contemporary mode, full of human feelings and intense eroticism.
View Item
Millions of people meditate daily. Many believe it affects how we feel and behave. But can we actually change through meditation? Does it work like a pill to alleviate stress? Can it put us on the path to personal transformation? Psychologists Dr. Miguel Farias and Catherine Wikholm explore the human ambition for personal change and its possible illusions, with a focus on yoga and meditation. They examine the psychological and biological evidence, from early research on Transcendental Meditation to recent brain-imaging studies on mindfulness. They also include personal accounts from practitioners, as well as recounting their own experiences of testing the effects of meditation and yoga on incarcerated criminals. This isn't simply another book about the route to enlightenment and happiness, nor is it a "how to." Farias and Wikholm challenge assumptions about the uses and effects of meditation and yoga. Controversially, "The Buddha Pill" argues that personal change effected by these spiritual practices can vary widely from one individual to another, and that peace and compassion may not always be the end result. Combining insights from decades of scientific research with fascinating accounts from gurus and prisoners, "The Buddha Pill "weaves together a unique story about the science and the delusions of personal change.
View Item