Women's Adjustable Closure on Chest Turkish Organic Cotton Spa Shower Bath Wrap Color: Plum, Size: 58" L x 28" W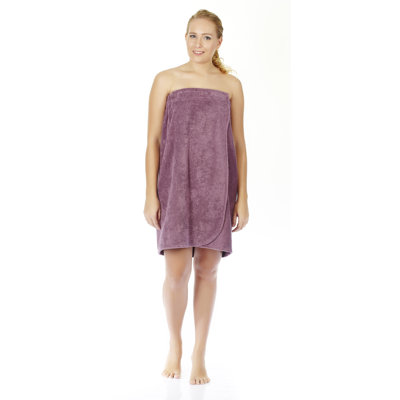 Absorbent terry cotton bath spa shower towel wrap that is easy to use. High quality Turkish cotton by Arus. This wrap is perfect for spa, travel, sauna, beach and fitness. You can take your wrap anywhere you go. This absorbent Turkish cotton shower wr...
Buy Now
$49.99
Related Products
Baby your baby's skin with 98.9% natural Burt's Bees Baby Bee Bubble Bath. This mild, tear-free and SLS-free bubble bath is made from a moisturizing cleansing complex of coconut oil, sunflower oil and soy proteins. It gently cleanses skin without irritation or drying. Just add a few capfuls of baby bubble bath to running warm bath water and cleanse baby with the naturally foaming suds. It's pediatrician-tested and contains no phthalates, parabens or petrolatum. Discover nature's best with Baby Bee from Burt's Bees. Usage Directions: As you fill the bathtub, pour 3 to 4 capfuls of Baby Bee Bubble Bath directly under warm, running water. Ingredients: Aqua (water, eau), dactyl glucoside, coco-betaine, lauryl glucoside, sucrose laurite, glycerin, perfume (fragrance), betaine, sodium coyly hydrolyzed soy protein, coco-glucoside, glyceryl oblate, sodium chloride, xanthan gum, glucose, citric acid, glucose oxidase, lacto peroxidase, limonene. Safety Warnings: Use only as directed. Excessive use or prolonged exposure may cause irritation to skin and urinary tract. Discontinue using bubble bath if rash, redness or itching occurs. Consult your physician if irritation persists. Keep out of reach of children unless under adult supervision.
View Item
100% Natural Original Bamboo Fiber Dimensions: 10 x 10 Inches Blissfully soft super absorbent and quick dry Monclaire 100% Satisfaction Guarantee,We offer a no-quibble returns policy Why Choose Bamboo? 1.Naturally Antibacterial Bamboo is naturally antibacterial, due to an inherent property known as "bamboo kun". According to a study done by the Industrial Testing Center, bamboo fiber exhibited a 99.8% kill rate after a 24 hour incubation period. It is mildew-resistant to help maintain a clean and healthy home. 2.Soft and Absorbent As soft as silk and cashmere, viscose from bamboo fabric is also three times more absorbent than cotton. 3.Sustainable and renewable Bamboo is an eco-friendly textile fiber, organically grown without fertilizers or pesticides. It is also completely biodegradable! 4.100% Satisfaction Guarantee Monclaire baby towels wants you to be completely satisfied with every purchase you make. We are so confident with our products that we offer consumers a no-quibble money-back guarantee ,If you are in any way dissatisfied with our items, return them for a Ful Refund 5.Wash Instruction:Do not bleach; tumble dry; low heat to resist shrinking; avoid use of fabric softener and dryer sheets,Some pc will be a little thin than others,but they are all good quality with100% Satisfaction Guarantee.After some months using,if one line unravel,do not pull out,just cut it.6.Gift:GIFT: One pc baby nail clipper,One small bag bamboo raw material 7.The the process flow of this washcloths's bamboo fiber:Raw bamboo → bamboo strip → steaming of bamboo strip → crushing and decomposing → biological enzyme degumming → fiber carding →bamboo fiber
View Item