The Saem - Urban Eco Waratah Skin Care Set: Toner 180ml + Lotion 140ml + Cream 60ml + Eye Cream 30ml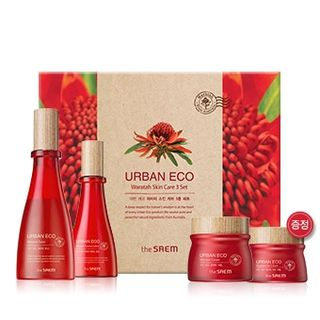 Brand from South Korea: The Saem. A special Waratah skin care set provides you intensive wrinkles & skin tone improvement. 1. Toner: Helps refine skin texture, use after cleansing. 2. Lotion: Provides essential moisture. Dispense an adequate amount and apply to the whole face. Avoid lips and eyes areas. 3. Eye Cream: Helps resolve dark circle and is effective for skin firming. Apply a small amount around eyes, pat lightly until absorbed with the fourth fingers. 3. Cream: Offers deep hydration and creates protecion to your skin. Use at the last stage of skin care, take a small amount and apply ...
Buy Now
$51.73
Related Products
The Shiny ECO Line self-inking ES-400 Value Bundle Date Printer comes with a black, a red and a blue ink pad. The date range extends out for 12 years, making the stamp good for that long. The impression of this ecologically friendly stamp is 15/16" long. This product is made from 75% post consumer ABS material. In addition, 77% of the plastic used to make this product is PET material 100% recycled from used water bottles.
View Item