Harmony Wood Mini Sorter, Two Sections, Mahogany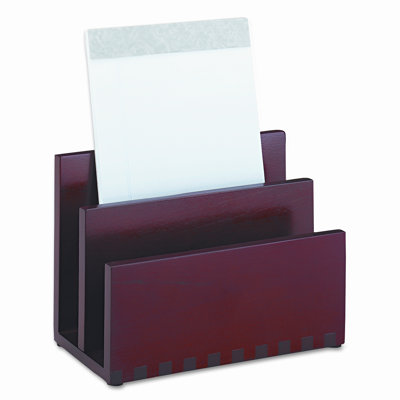 Desktop File Folder Sorter Type Vertical Mini Sorter//Height 5 in//Number of Compartments 2//Global Product Type Desktop File Folder Sorters//Post Consumer Recycled Content Percent 0 %//Material(s) Wood//Depth 15 1 2 in//For File Size Mail, Messages, S...
Buy Now
$33.99
Related Products
1" 1" Width x 2.62" Length 100% 2.62" 30 3000 / Box 48460 Mailing labels offer eco-friendly labeling. The label paper and package are made with a high percentage of recycled material and with a chlorine-free process, which cuts down the amount of harmful substances associated with the manufacturing process. The labels and box are printed on soy-based and vegetable-based inks that come from renewable materials, rather than solvent-based inks. When you're done, the labels and box are also recyclable. Avery offers many free, easy-to-use design and print solutions for labels. Labels are compatible with laser and inkjet printers. Avery Chlorine-free Eco-friendly EcoFriendly FSC Inkjet Laser Mailing Label Mexico No Paper Permanent Rectangle Self-adhesive White Yes http://www.avery.com
View Item
Slanted vertical organizer features extra-wide ascending compartments to provide greater capacity for files, reports and documents. Slanting base allows high visibility. Easily store many combinations of files, forms, magazines, reports, catalogs, sales orders, folders, pads of paper, proposals, and mail for maximum versatility and optimal use of valuable desktop space. Vertical organizer is ideal for corporate offices, home offices, schools, and shared document storage for use by students, teachers, entrepreneurs, and at sales counters. Rounded edges make loading and retrieval of documents fast and easy. Nonslip, nonmar padded feet provide a scratch-free, secure grip. Heavy-gauge steel has a scratch-resistant, chip-resistant finish that withstands everyday use.. Post consumer recycled content: 51%. Recycled content: 58%. Made in USA.
View Item