Mail Box with 15 Slots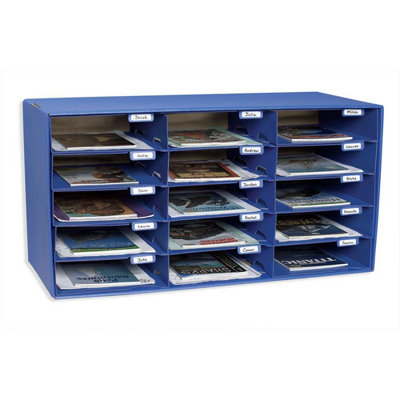 Mailroom Sorter//Wall mountable//Compartments 15//Recycled Yes//Recycled Content 70%//Post consumer waste% 60%//Application Usage Mail Sorter//Material Cardboard//Colour Blue//Product Type Mailroom table accessory//Colour Blue//Country of Manufacture U...
Buy Now
$75.99
Related Products
Tyvek decorative shipping envelopes are the colorful, designer cousins of the very same Tyvek padded mailers used by companies like FedEx, UPS and most major corporations. Why choose Tyvek, you ask? Fabulous artwork aside, Tyvek protects its precious contents with a sturdy layer of foam padding. Tyvek is tear, puncture and water resistant and, best of all, there's no tape, glue, bow-tying or cutting necessary; simply pop an item inside, seal it, address it and you're done. So whether it's books, CDs, DVDs, socks or any number of similar items, now you can bypass wrapping a gift before putting it in a box and sending it on its merry way. Wow - can't beat that! All Jillson Roberts Tyvek padded envelopes are made in the USA and are printed with linseed and soybean oil-based non-toxic inks; the foam lining is made of 100% recycled resin. A beautiful selection of matching and harmonizing gift wraps, wine and bottle bags, ribbons, crinkle shred, raffia and colorful curly bows is also available to let your unique special occasion style shine. Jillson Roberts is proud to offer the largest, most comprehensive presentation of eclectic and environmentally sensitive paper products available on the market today; proof that one can, indeed, give beautifully and responsibly. They invite you to explore their fresh and innovative collections available on Amazon.
View Item
ENVIRONMENTALLY FRIENDLY - Made of thick recycled poly material. BUILT TO LAST- Unyielding to rot and deterioration. LOW MAINTENANCE - No painting and fade resistant. MADE IN USA/WARRANTY - Superior Craftsmanship. 12 year residential warranty/1 year commercial. DIMENSIONS - 4.5"L x 28"W x 57.5"H 24 lbs.. We look in all corners of the World for quality products at the lowest possible prices. Create Your Outdoor Oasis with PHAT TOMMY home and garden products.
View Item