Natural Elements 2 Indoor/Outdoor Pet Bed Size: 28" L x 18" W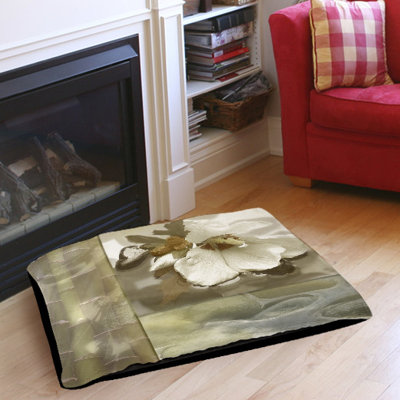 Beautiful art by Donna Geissler creates a botanical themed design in neutral tones for this printed indoor / outdoor dog bed. The design is printed on weather resistant polyester fabric for the top of the bed. The bottom is waterproof cotton "duck" fa...
Buy Now
$52.99
Related Products
Natural Elements collection//Printed on 100% polyester//Zippered cover is removable and machine washable//Machine wash separately cold water gentle cycle mild detergent. Do not bleach tumble dry low heat//Printed and sewn in the USA//Bed Type Pillow Cl...
View Item
Pets play an important role in maintaining our sense of belonging. Whether in relationships or living alone, people benefit from the daily contact and sense of purpose a pet provides. It is a complex yet basic relationship, one which nourishes our physical, emotional, and spiritual well-being. Raising a pet has become more complex over the years. Concerned owners spend hundreds of dollars suppressing various health or behavioral conditions, many of them chronic The principles of holistic animal care as described in these guides should not be used in lieu of, but as support to, proper veterinary care. Newman's goal is to take the mystery out of raising your dog or cat as nature intended by identifying safe, effective feeding, training, and care procedures, including natural symptom relief.
View Item