Organic - ORGANIC Pink Jersey Knit YOUTH BED Sheet - Sheet Set (flat, fitted,baby pillow case)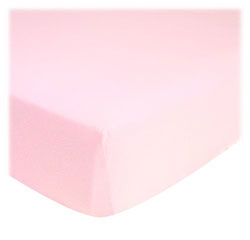 These luxurious plush fitted youth bed sheets are made of the finest 100% cotton `Organic jersey knit` material. Sheets are made with deep pockets and are elasticized around the entire edge which prevents it from slipping off the mattress, thereby keeping your baby safe. These sheets are so durable that they will last all through your baby's growing years. We're called sheetworld because we produce the highest grade sheets on the market today. Color is a soft baby pink. Will fit a standard youth bed mattress measuring 33 x 66 inches.
Buy Now
$149.99
Related Products
Pillow available separately//Product Type Pillow Case//Pattern Solid Color//Handmade//Colour Ecru//Primary Material 100% Cotton//Non Toxic//Gender Neutral//Cleaning Method Machine Washable//Eco Friendly//Product Care Machine washable //Country of Manuf...
View Item
Green cover colour//100% American grown organic buckwheat hulls and a 100% authentic Japanese, unbleached pillowcase//Buckwheat hull pillow conforms to the natural contours of your head and neck and provides better support//Each pillow comes with a zip...
View Item