Organic - ORGANIC Pink Jersey Knit YOUTH BED Sheet - Sheet Set (flat, fitted,baby pillow case)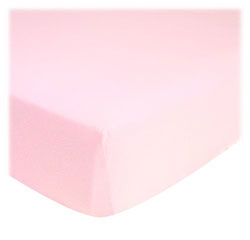 These luxurious plush fitted youth bed sheets are made of the finest 100% cotton `Organic jersey knit` material. Sheets are made with deep pockets and are elasticized around the entire edge which prevents it from slipping off the mattress, thereby keeping your baby safe. These sheets are so durable that they will last all through your baby's growing years. We're called sheetworld because we produce the highest grade sheets on the market today. Color is a soft baby pink. Will fit a standard youth bed mattress measuring 33 x 66 inches.
Buy Now
$149.99
Related Products
Amazing, hand crafted bed pillows. Bio Sleep Concept pillows are made exclusively using Natural Felt certified organic cotton, and manufactured in the state of Oregon. Features: -Product depth will vary slightly.-Made in the USA.-Size: .-Sleep Positio...
View Item
The Alexandra Ferguson Celebrate Everyday "I Love This Place" Decorative Pillow helps you make a definitive statement within your home space and give an edgy look to it. This pillow has a distinct feel to it and is sure to make heads turn. It has a pe...
View Item