Rachael Taylor Organic Retro Leaves Throw Pillow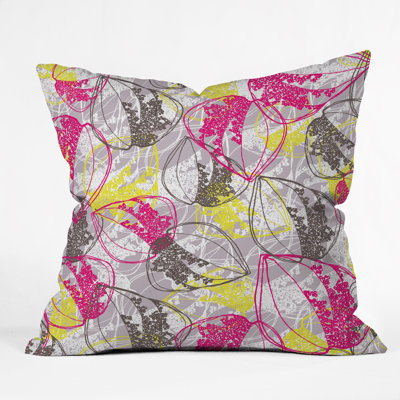 Material Woven polyester//Made in the USA//Top and back colour Print//Rachael Taylor collection//Product Type Throw pillow//Insert Included//Style Modern & Contemporary//Colour Pink//Size Medium (40 50cm)//Shape Square//Cover Material Polyester Polyest...
Buy Now
$44.99
Related Products
This organic cotton wool pillow features an eco-friendly wool fill that is naturally hypoallergenic and dust mite and mildew resistant. This wool goes beyond organic standards and is 100% American from free-range "happy sheep" ranched in Northern Cali...
View Item
Best All Natural & 100% Organic Pillow for Toddlers on Amazon!  This pillow is 100% G.O.T.S. certified, the strongest independent organic certification in the world for ecology and social responsibility in processing and manufacturing. Healthy Sleeping - Hypoallergenic, Antibacterial, Dust-Mite Repellent, Anti-Allergy We never use synthetic chemicals, dyes, fire retardants or bromine in our products! Our pillows are non-toxic, NON-GMO, NO pesticides, NO offgassing, NO synthetic or poly fiber materials. Exclusive Wool "Pearls" Wool is one of the most resilient natural fibers available, so it only makes sense to use it in our pillows. Using our own machine, we take wool and convert it into small pearl sized balls to create a fluffy yet supportive pillow. This fluffy and dense pillow is ideal for body heat control, keeping your toddler warm and cozy. Care Instructions * Do NOT wash the organic wool core; Air pillow seasonally * Keep the pillow clean by covering it with a pillow case * The organic cotton Damask cover can be washed in cold water and hung to dry * Eliminate doors by sprinkling with baking soda * To increase pillow loft, place the pillow in the dryer with two tennis balls, set dryer on air or the coolest setting This pillow recommended for children of 2 years of age and up. 3-Year Warranty - Our Warranty & Our Passion We are 100% confident that you'll love your new organic pillow! We stand behind all our products with a 3-year warranty. You can rest assured knowing that your child is not breathing any harmful chemicals or synthetic fumes while they sleep! Scroll Up and Click the "Add To Cart" Button Above and Start Sleeping Toxin-Free Today! >>  Your Family. Your Life. All Organic.
View Item