The Face Shop - Natural Sun Eco Body & Family Mild Sun Milk SPF40 PA+++ 120ml 120ml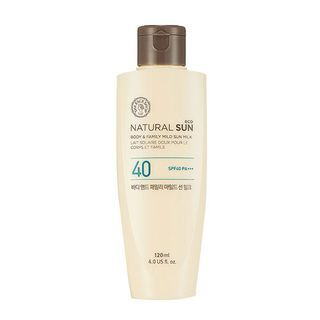 Brand from South Korea: The Face Shop. A mild face & body sun cream formulated with eco-certified organic Sunflower Sprout extract for all skin types Gives UVA + UVB protection while strong at sweat and water How to use: Use at the last stage of skin care routine, evenly apply on body parts which are exposed to the sun.
Buy Now
$19.71
Related Products
Revolutionary plant based formulas offer a safe and effective alternative to synthetic chemicals. Patented technology keeps away mosquitoes, ticks, gnats and more for hours. Based on natural defenses that plants and trees use to protect themselves from insects and disease. Deet free formula is safe to use on the entire family including infants and children. Contains 100 percent food grade ingredients. Fresh, natural scent. Non oily, dries quickly. This product contents 6 ounces.
View Item
Babyganics Natural DEET-Free Insect Repellent, 2oz, Spray BottleGet rid of what's buggin' your baby. They're not gonna be an indoor baby forever. But before you have to deal with the mean girls and bullies there are pesky mosquitoes, gnats and flies. So you've got this natural DEET free insect repellent. The power of natural essential aromatic oils (Citronella, Peppermint, Rosemary, Lemongrass & Geranium) keeps babies safe and free. Our blend of essential oils is pungent to insects, especially mosquitoes, smells great and is safe for whole family. We've got the creepy critters covered. High school? That'll be up to you.Features:Gentle plant-based ingredients that are safe to use on your baby with no chemical residueMade with 100% natural essential oils-Citronella, Peppermint, Rosemary, Lemongrass & GeraniumNon-greasy, non-toxic DEET-Free formulaHelps to keep mosquitoes, gnats and flies awayNo: DEET, parabens, sulfates, phthalates, artificial fragrances or dyesNever tested on animalsSafe for daily use
View Item