Chili Pepper Seed Pack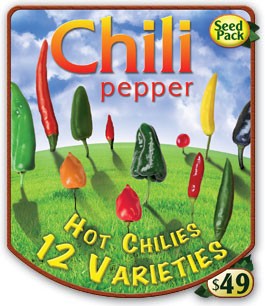 Chili peppers originated in the Americas. Peppers are prized as a spice, as a vegetable, and as medicine. Chilis love heat and sunshine and will do well as field crops or in containers. High in vitamins A, B and B6. Chili was indigenous to Central, South America and the West Indies with 5000 thousands years of history, as the first cultivation of chili was around 3000 BC. The Heirloom Chili Pepper seed pack provides 12 kinds of hard-to-find, yet easy-to-grow chilis from all over the Americas. With 2 kinds of Habanero, Jalapeno, Tabasco, Thai, Cayenne, and ...
Buy Now
$0.00
Related Products
Black Beauty Zucchini Seeds (Cucurbita pepo) The standard summer squash, introduced to U.S. markets in the 1920s. Compact everbearing bush plants are loaded with glossy green-black fruits with firm white flesh. Best eaten when under 8" long. Excellent variety for freezing. 45-65 days. Sow seeds outdoors in 12" diameter hills, 1 inch deep, after danger of frost has passed. Hills should be spaced 6' apart in all directions. Thin plants to 3-4 plants per hill. Black Beauty Zucchini Seeds can also be started indoors 3 weeks before transplanting out.
View Item
One of the most appealing extra-early tomatoes. Fruits are early, deep red, and cold tolerant. Rich taste. Smooth and globe-shaped, 4-6 oz. with a small stem scar. Indeterminate. Organically grown. Heirloom. David's Garden Seeds is a Veteran owned business that has been offering quality products since 2009.
View Item