Chili Pepper Seed Pack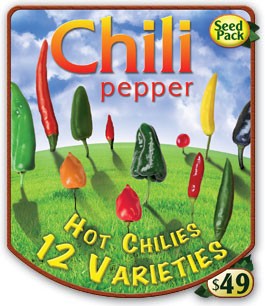 Chili peppers originated in the Americas. Peppers are prized as a spice, as a vegetable, and as medicine. Chilis love heat and sunshine and will do well as field crops or in containers. High in vitamins A, B and B6. Chili was indigenous to Central, South America and the West Indies with 5000 thousands years of history, as the first cultivation of chili was around 3000 BC. The Heirloom Chili Pepper seed pack provides 12 kinds of hard-to-find, yet easy-to-grow chilis from all over the Americas. With 2 kinds of Habanero, Jalapeno, Tabasco, Thai, Cayenne, and ...
Buy Now
$0.00
Related Products
100% MADE IN THE USA Genuine Virgin Seed Supply 500 Slow Bolt Arugula Seeds We Picked the Healthiest, Fastest Growing & Most Delicious NON-GMO Heirloom Varieties. All of our Virgin Seed Supply seed pack consist of seed harvested in the previous season and are 99.9% pure with 93-98% germination rates depending on variety. All Virgin Seed Supply Seeds were open-pollinated to preserve the plant's genetic variation! This ensures that your crop will be able to produce seeds of it's own! You will never have to buy seeds again for your children or future generations!
View Item
Everyone knows that leafy greens are packed with essential nutrients. This collection goes beyond that to show that they can be beautiful and flavorful. From spicy arugula, to tender lettuce, to colorful rainbow Swiss chard, this 5 variety collection is power greens done in gourmet style. Additionally, this entire collection of 7 varieties of leafy green seeds are all organic, which means they are non-GMO and no synthetic or chemical pesticides or fertilizers were used throughout the entire growing, harvesting, handling, and packaging process. Planting instructions and individual product descriptions are found on the back of each packet.
View Item