Chili Pepper Seed Pack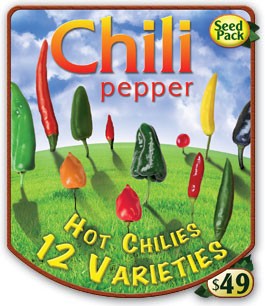 Chili peppers originated in the Americas. Peppers are prized as a spice, as a vegetable, and as medicine. Chilis love heat and sunshine and will do well as field crops or in containers. High in vitamins A, B and B6. Chili was indigenous to Central, South America and the West Indies with 5000 thousands years of history, as the first cultivation of chili was around 3000 BC. The Heirloom Chili Pepper seed pack provides 12 kinds of hard-to-find, yet easy-to-grow chilis from all over the Americas. With 2 kinds of Habanero, Jalapeno, Tabasco, Thai, Cayenne, and ...
Buy Now
$0.00
Related Products
A fully-savoyed or crinkled variety with dark green leaves. Most heat-tolerant variety we offer, very dependable, and the most full-flavored variety for salad use. Has withstood winter lows to 0°F. Organically grown heirloom seeds. David's Garden Seeds is a Veteran owned business that has been offering quality seeds since 2009.
View Item
You can't help but pamper these garden divas because you know the reward will be worth it. This collection showcases classic heirloom tomatoes at their best-even Amy Goldman would be proud. They come in all the colors of the rainbow, in a broad selection of sizes and shapes, and each with a unique, delicious, full-bodied heirloom flavor. Additionally, this entire collection of 7 varieties of heirloom tomato seeds are all organic, which means they are non-GMO and no synthetic or chemical pesticides or fertilizers were used throughout the entire growing, harvesting, handling, and packaging process. Each individual packet includes 250 mg of seed (approximately 100 seeds). Planting instructions and individual product descriptions are found on the back of each packet. This collection is essential for any tomato lover.
View Item