Heirloom Organics - Non-Hybrid Seeds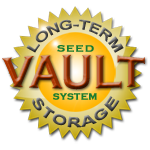 Non-Hybrid or Open-Pollinated seeds allow the gardener to collect seeds from a crop for future planting. Hybrid seeds do not. All Heirloom Organics Seed Packs are 100% Non-Hybrid AND Non-GMO (genetically modified) and specially sealed for long term storage. Use now AND save for emergency. All from the same hermetically sealed pack!
Buy Now
$0.00
Related Products
The Heirloom Organics Kitchen Herb Pack is our most popular specialty pack. The most common, easy-to-grow 100% non-hybrid varieties for your kitchen. Every sustainable kitchen garden needs a good supply of culinary herbs for flavoring and spicing as well as preserving the foods you grow. The Heirloom Organics Non-Hybrid Kitchen Herb Pack brings it all together in one convenient selection for culinary and gardening pleasure.
View Item
100% MADE IN THE USA Genuine Virgin Seed Supply Lettuce Variety Seed Mix. *Includes* 35 Jalapeño Pepper, 35 Sweet Banana Pepper, 40 Cayenne Pepper, and 70 Yolo Wonder Pepper Seeds! We Picked the Healthiest, Fastest Growing & Most Delicious NON-GMO Heirloom Varieties. All of our Virgin Seed Supply seed pack consist of seed harvested in the previous season and are 99.9% pure with 93-98% germination rates depending on variety. All Virgin Seed Supply Seeds were open-pollinated to preserve the plant's genetic variation! This ensures that your crop will be able to produce seeds of it's own! You will never have to buy seeds again for your children or future generations!
View Item