Heirloom Organics - Non-Hybrid Seeds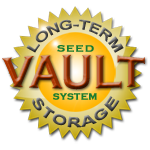 Non-Hybrid or Open-Pollinated seeds allow the gardener to collect seeds from a crop for future planting. Hybrid seeds do not. All Heirloom Organics Seed Packs are 100% Non-Hybrid AND Non-GMO (genetically modified) and specially sealed for long term storage. Use now AND save for emergency. All from the same hermetically sealed pack!
Buy Now
$0.00
Related Products
WHY OPEN SEED VAULT'S SEEDS ARE SUPERIOR -We provide full planting and seed harvesting instructions for each herb so you can continue to grow year after year. -Beware of cheap imitations. Our Herb Vault contains twice the amount of herb seeds versus competitors. -Easy start with 12 Free seed starting Peat Pellets Included-Makes a Perfect Gift for your Gardener, Chef or Survivalist! EACH PACK CONTAINS THE FOLLOWING 12 SEED PACKETS: 1. Basil Italian ≈ 200 mg 2. Anise ≈ 250 mg 3. Sage Broad leaved ≈ 200mg4. Chives Common ≈ 200 mg5. Cilantro Slow Bolt ≈ 500 mg6. Cumin ≈ 500 mg7. Dill Bouquet ≈ 250 mg 8. Oregano Italian ≈ 200 mg9. Thyme Winter ≈ 200 mg 10. Parsley Flat Leaf ≈ 350 mg 11. Summer Savory ≈ 250 mg 12. Arugula Slow Bolt ≈ 400mg 14-Page Growing and Seed Saving Guide (Plus 12 Seed Starting Peat Pellets) Includes over 3,500 Seeds!
View Item
The Heirloom Organics Tea Garden Pack contains EVERY important tea herb you can grow INCLUDING black and green teas. Join the thousands of Americans who are growing their own Herbal teas at home AND save lots of money! Grow indoors or out! The Heirloom Organics Tea Garden Pack contains 21 delicious varieties including Chamomile, various Mint varieties, Licorice, Wintergreen, Lemon Balm, Echinacea, Hibiscus, Mulberry and MANY MORE. Start your Non-Hybrid Herbal Tea Garden indoors today!
View Item