EcoTowel Rayon from Bamboo Compostable Cloth 3 Count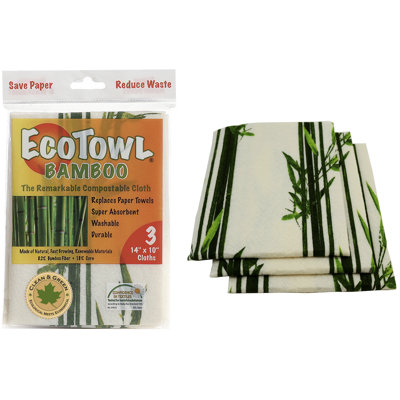 Compostable cloth//Made from rayon from bamboo and corn fibres//Absorbs more than 10 times its own weight in liquid//Absorbs like sponge, wipes like towel and dries like shammy//Product Type Dishcloth//Design Patterned//Colour Green//Country of Manufac...
Buy Now
$30.99
Related Products
The All Seasons Indoor Composter kit is a unique, in-house system used to recycle kitchen scraps into an organic compost soil conditioner. The most effective method of fermenting is through anaerobic (without oxygen) fermentation. This process prepares the scraps for burial in less than half the time of conventional composting methods without any unpleasant odors. This system ferments and pickles your food waste in less than half the time of conventional composting methods without odors. The All Seasons Indoor Composter includes two unique features, the strainer and spigot, allowing the moisture released by the scraps of food waste to be drained out to prevent spoilage. This liquid can be used as a fertilizer for household plants (1:100 dilutions) or to clean your kitchen and bathroom drains (undiluted). The air-tight lid, which ensures anaerobic fermentation, must be pressed down firmly after each use. The lid is made of high quality plastic that is also flexible and may not lie flat. This warping will not affect the efficacy of the air tight lid. The All Seasons Indoor Composter kit can be easily implemented in an indoor environment making it useful for apartment, school, household, restaurant, business or wilderness use. Each composting kit comes with complete instructions and a bag of All Seasons Bokashi. The All Seasons Indoor Composter, used in conjunction with All Seasons Bokashi, provides the ideal conditions to activate anaerobic fermentation that accelerates the composting process, while eliminating odors and deterring pests.
View Item
Positive stop (90 degrees) lid - durable moulded stop points allow lid to stay open and open flush to the rear. Superior latch / closure - one handed single motion open and close with audible latch feedback. Rim and lid easy to clean - smooth top edge and removable lid allows easy cleaning in dishwasher or sink. Wide top opening makes for easy scraping of food scraps into the container. Multiple means to carry - can be transported using the folding handle, under the lip grip or back grip. Vented lid with microperforations to keep bugs out.
View Item