EcoTowel Rayon from Bamboo Compostable Cloth 3 Count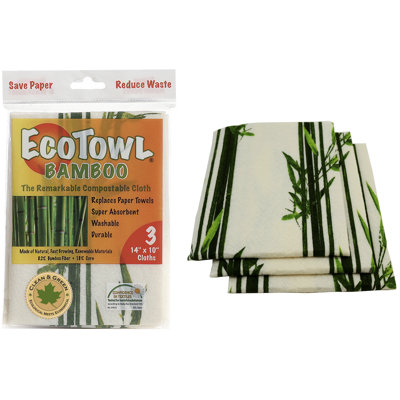 Compostable cloth//Made from rayon from bamboo and corn fibres//Absorbs more than 10 times its own weight in liquid//Absorbs like sponge, wipes like towel and dries like shammy//Product Type Dishcloth//Design Patterned//Colour Green//Country of Manufac...
Buy Now
$29.99
Related Products
Going green? Recycle your vegetable scraps into a nutritious fertilizer for your vegetable and flower gardens with the Lifetime 65 gal. Composter. It is constructed with heavy-duty black panels to absorb and retain the heat that decomposes the organic material. An internal mixing bar allows the flow of oxygen to break it down into a fine fertilizer. The lightweight 65 gallon tumbler turns on its axis for balanced rotation. Extra-large removable lid allows easy access for filling and dumping. With your compost ingredients enclosed inside the composter tub, you will not be subjected to an unsightly, smelly, fly attracting, open-air compost heap in your garden. And no more turning it all with a pitchfork. Save your back, save your money, with the convenient Lifetime 65 gal. composter.
View Item
This 50 gallon compost tumbler compost tumbler cuts down your household garbage by recycling organic materials and converting it into rich, nutritious compost for your garden. Drum is constructed of 90% recycled plastic, frame is heavy-duty tubular st...
View Item