Graf 21.39 cu. ft. Stationary Composter Capacity: 14.04 cu. ft.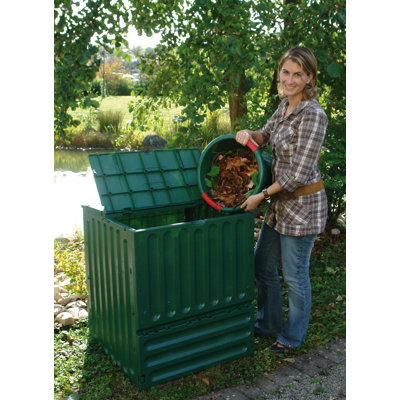 Large capacity Graf Eco King 158 gallon composter turns kitchen waste into rich, nutritious compost. Constructed from 100% recycled UV-resistant polypropylene. Two large top flaps for easy filing. Secure, wind-proof latches keep top closed. Folding bo...
Buy Now
$131.99
Related Products
'Continuous use' dual chamber composter//Durable, rust resistant galvanized steel construction//Holds 14.2 cubic feet (106 gallons) of compost//Insulated great for cool climates and all weather composting//Easy to use tumbles easily for maximum aeratio...
View Item
The Urban Composter? Bucket is a versatile kitchen compost bin can be used for composting all kitchen scraps including meat. It uses an anaerobic decomposition process similar to Bokashi but without the messy sawdust. The active ingredient are effecti...
View Item