Graf 21.39 cu. ft. Stationary Composter Capacity: 32.08 cu. ft.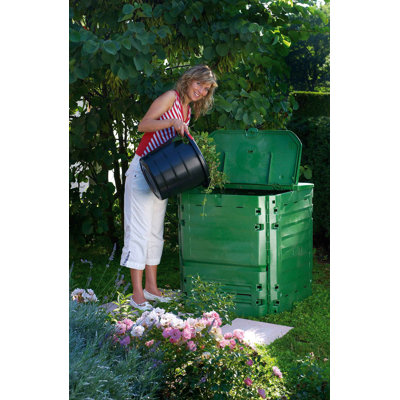 The Graf 160 gallon thermo king composter turns kitchen waste into rich, nutritious compost for your garden! Constructed from Thermolen (UV-resistant, weatherproof material), keeping heat inside, which accelerates the composting process. Large lid for...
Buy Now
$261.96
Related Products
Includes filter in lid to keep compost odourless//Easy organic recycling//Store peelings, egg shells, coffee grounds, greens, clippings and vegetable scraps for transfer to your garden composter//Sturdy stainless steel handle//Capacity 1 Gallon//Materi...
View Item
Capacity range (volume) 13 gal//Made in USA//Product Type Composting Accessories//Colour White//Material Plastic//Compost Completion Time 2 26 weeks//Foldable//Compostable Bag Included//Indoor or Outdoor Use Both indoor and outdoor//Non Toxic//Child Sa...
View Item