Graf 21.39 cu. ft. Stationary Composter Capacity: 32.08 cu. ft.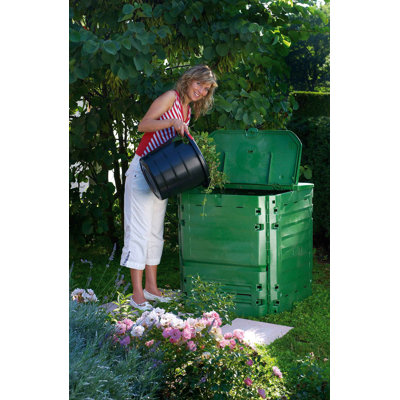 The Graf 160 gallon thermo king composter turns kitchen waste into rich, nutritious compost for your garden! Constructed from Thermolen (UV-resistant, weatherproof material), keeping heat inside, which accelerates the composting process. Large lid for...
Buy Now
$301.47
Related Products
COMPOSTING: AN EASY HOUSEHOLD GUIDE THE CHELSEA GREEN GUIDESaA NEW SERIES OF POCKET-SIZED BOOKS TO HELP SAVE THE EARTH Did you know that up to two-thirds of most household trash can be composted? That composting reduces the need for more landfills? Composting is fun and easy And you can make compost even if you live in an apartment and donat have access to a garden. This book provides all the information you need for successful compostingaa satisfying way to live lightly on Earth. Also available: WATER: USE LESSaSAVE MORE ENERGY: USE LESSaSAVE MORE REDUCE, REUSE, RECYCLE: AN EASY HOUSEHOLD GUIDE
View Item
Making your own compost starts in the kitchen by collecting all your organic waste and adding it to your outdoor composter. As much as 30% of household waste can be composted and should not be sent to a landfill. Composting is the answer and using the Kitchen Compost Collector is a most practical way to collect all of your organic waste. This kitchen waste collector is made from high density polyethylene and includes a carbon filter that significantly reduces any organic smells. Convenient handle lets you carry waste directly to outside composter and is dishwasher safe. For best results use only ECO 2500 replacement filters (3.5" x 3.5") only shipped and sold by Amazon. Please note: Packaging may contain special spacers (in the shape of a "house") used to separate multiple units, these should be recycled as it holds no further use to the ECO 2000 Composter Bin.
View Item