1,250 Watt Portable Electric Compact Heater Finish: Red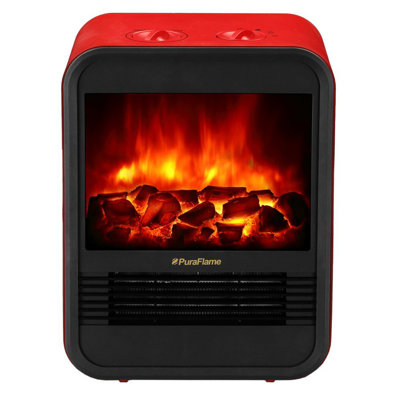 9" 1250W Clara Mini Electric heater is a portable, energy-saving, freestanding heater. The realistic looking fire feature can be used with or without heat for additional ambiance and comfort. Its compact size makes it easy to move, transport and store...
Buy Now
$85.99
Related Products
3 Settings include high heat, low heat and flame only (no heat)//1500 Watt ceramic heater offers the instant comfort and ambiance of fireplace//Flame only setting for multi season use//Space saving design ideal for any room in the house//Easy grip carr...
View Item
Two Slow Cookers, One Package. The Hamilton Beach colored collection. Whether looking for a slow cooker to complement pre-existing set, or if this is the first purchase. This multicolored two appliance Slow Cooker Set by Hamilton Beach will be sure fire addition to most any kitchen cooking arsenal. This bundle comes with most everything needed. The massive 7 quart for large roasts, ribs, ,gatherings or the family supper. Bundle with the everyday 1.5 quart cooker that will works with most any smaller recipe. Perfect for those fondues and party dips. The Hamilton Beach 7-Quart Portable Slow Cooker is a beautiful addition to most any kitchen. It features a glossy silver finish to match most any decor and has a 7-quart capacity that can hold an eight-pound chicken or two four-pound roasts. This 7 quart portable slow cooker includes a lid rest that holds the lid up so moisture drips back securely into the dish without making a mess on the counter. The rubberized lid features a latch strap that seals the lid tightly to the base to prevent spills during transport. The cooker comes with full-grip handles that make it easy to carry. It also includes a recipe name holder and easy cord storage. With this Hamilton Beach silver slow cooker, you can cook your favorite crock pot recipes and take them to parties and gatherings without spilling a drop. The Proctor-Silex 1.5- Quart Round Slow Cooker provides a stylish and functional touch to a kitchen. The stoneware construction with glass lid makes it sturdy and offers years of reliable use. The 1.5 quart capacity of the cooker is sufficient to cook food for two people. The glass lid allows you to see through while cooking, which provides better results. It also has a warm setting that keeps the food warm and fresh. The removable crock makes it easy to wash and maintain. The 1.5- Quart Round Slow Cooker by Proctor-Silex is also easy to care for and dishwasher safe that keeps it clean. The rust resistant material retains its quality and looks for a long time. Two slow cookers one box for added flexibility Mess-free lid rest holds lid up securely and directs drips back into the dish Tight-seal lid - rubberized lid and Lid Latch strap seal lid onto base to reduce messy spills Adjustable temperature-control dial offers keep warm, low, and high heat settings Clear tempered-glass lid with cool-touch knob traps in heat and moisture Full-grip handles 7 quart capacity fits a 7 lb. chicken or 5 lb. roast We are an authorized Hamilton Beach Deal Hamilton Beach Portable 7 & 1.5 Quart Portable Slow Cooker Appliance Bundle Hamilton Beach 33172 7 Quart Classic Countertop Oval Slow Cooker with Lid Latch Travel and serve with no mess Mess-free lid rest holds lid up securely and directs drips back into the dish Rubberized lid and Lid Latch? strap seal lid onto base to reduce messy spills 7 qt. capacity fits a 7 lb. chicken or a 5 lb. roast Dishwasher safe stoneware & glass lid Full-grip handles Easy cord storage Product Dimensions (inches): 9.8 H x 18.3W x 12 D Product Condition: Brand New Product Weight: 16 Pounds Part Number: 33173 Warranty: 2 years (one year manufacturer + one year VMInnovations) Proctor Silex 33015Y 1-1/2-Quart Round Slow Cooker/Party Dipper Round-shaped slow cooker with 1-1/2-quart removable stoneware crock Adjustable temperature-control dial offers keep warm, low, and high heat settings Clear tempered-glass lid with cool-touch knob traps in heat and moisture Stay-cool side handles; dishwasher-safe removable crock and glass lid Dishwasher safe crock and glass lid Keep warm setting Removable crock 1.5 quart capacity Measures approximately 8 by 8 by 9 inches Product Weight: 5.65 Pounds Product Condition: Brand New Part Number 33015YA Warranty 2 years (1 year manufacturer + 1 year VMInnovations)
View Item