Evelyn Barrel Chair Fabric: Nobletex Rain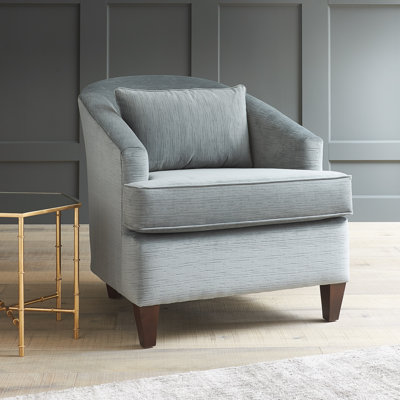 The Evelyn Chair is both stylish and comfortable. Slide into the deep seat, tailored welting, and clean track arms for a taste of modern relaxation. Features: -Wood frame construction wrapped in foam and fabric upholstery.-Use a water based upholstery...
Buy Now
$475.99
Related Products
Save money on your water bill when you install this ingenious fifty-gallon rain barrel. Clever design features a filter lid to keep out leaves and debris while catching gallons of water for your plants and garden. Taupe finish barrel includes a bronze finish lid and drainage and overflow hoses. Durable resin finish is made to last. For holding and catching rain water. Capacity holds up to 50 gallons of water. Durable resin construction. Includes drain hose for water usage. Includes shut off valve for hose hook up. Overflow hose doubles as connector hose. Debris filter keeps leaves and yard waste out of water. Linkable to one additional barrel for increased capacity. Secure lid is child and pet proof. Color: Light taupe with mocha accents. Size: 29 in. W x 29 in. D x 26 in. H.
View Item
Includes rain barrel, two spigots and integrated overflow channel. Meshed screen blocks debris from entering your water supply. Routed channel diverts excess water to the front of the barrel to avoid flooding your foundation. Plant an array of floral arrangements or even a small herb or vegetable garden. Five gallon bucket. Planter top: 4 in.. Warranty: One year limited. Made from plastic. Light granite color. Made in USA. Assembly required. Overall: 21 in. Dia. x 41.5 in. H (18 lbs. ). Instructions . The Impressions rain barrel collection reinvents how you harvest rain water. This 50 gallon Reflections design is sturdy and one of the most eye-catching rain barrels on the market. The highly reflective surface is the most unique among current rain barrels and lends itself towards modern design.
View Item